DIY Pop App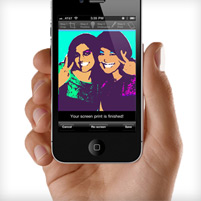 Pop art icon Andy Warhol (A'49) got his fifteen minutes of fame, and then some.

An alum of Carnegie Mellon University, the artist is known around the world for his colorful celebrity silkscreens.

With a new app developed by students at Carnegie Mellon University and the Andy Warhol museum, you can now create your own work of art while learning all about Warhol's process, well, in the process.

The Warhol team collaborated with students in CMU's Software Engineering Master's Program, who helped to create the app as part of a class project.

The  app allows users to create a digital silkscreen print by following Warhol's famed silkscreen process step by step.

Starting with a photo taken by their device's built-in camera, or obtained from photo galleries, Warhol wannabes can create personal works of art.

The hands-on process includes cropping, exposing and painting. Users employ their fingers as virtual squeegees, pulling them across the screen to apply the ink that completes the digital silkscreen.

The Warhol Museum sponsored a team of students — Kothanda Ramakumar, Dinesh Ramadoss and Ramkumar Nagarajan — to develop the app as part of their master's degree project.
The team was mentored by Carnegie Mellon University Prof. Matthew Bass.

"Part of the objective was to educate people on Andy Warhol's artwork," said Bass, an MSE faculty member.

It was the top-selling app in the iTunes AppStore on its July 11 release date and was identified as a 'Pick of the Week' by Gizmodo.
The app was also featured in The Wall Street Journal's "All Things D," The New York Times, Pittsburgh Post-Gazette and numerous other online and print publications.

"This is an example of a class project that is not just real-world, but of one that is very successful."

The Warhol D.I.Y. Pop app works on the iPhone, iPad and iPod Touch and is  part of The Warhol Museum's strategic tools for driving traffic to their website.

The project also gives the students an edge when they go out into the world to compete for jobs.

"These students now have a real, concrete result in their portfolio that not many people have — not even those working for a while in the industry," he said. "And they did this without any experience. That's a really nice draw."
Related Links: Buy it now | ISR | MSE | New York Times story | The Warhol
---