Aww, Eggplant!?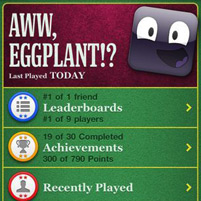 The smells of summer grilling have you in the mood to skewer vegetables? There's an app for that.

Alex Kowalski, Tyler Emptage and Anthony Palma used the idea to create an addictive video game for a class assignment.

Users had so much fun the team worked beyond their A+ grade and the end of class to make it a downloadable app on iTunes.

The trio met in Carnegie Mellon University's Entertainment Technology Center.  Kowalski , Emptage and Palma created  "Aww Eggplant!?" for an open-ended class assignment that had to be completed in three weeks.

The goal of the game is simple: skewer as many veggies as possible within the allotted round time while avoiding that sneaky eggplant.

Veggies are tossed from both sides of the screen and the player's touch controls a skewer along the bottom.

By tapping and firing the skewer at the screaming veggies, players make flying shish kebabs for points.

More veggies per kebab equals more points, but get an eggplant on your skewer and you'll lose points.

As levels advance, the theme changes  — pirates, zombies, cops and robbers, and more. 

The trio continued work on the project independently for several months — into the summer and during their internships — because they really liked the product and wanted to see if they could take a game from concept through production.

Mission accomplished. The app is available for download on the App Store. 
 
"I think 'Aww Eggplant' is super, silly fun," said CMU's Jesse Schell, assistant professor of Entertainment Technology.

"It points to the fact that downloadable markets have radically changed the game industry. Many walls have come down, and anyone with a fun idea can get it out there and see what the world thinks."

Kowalski saw the assignment as "a great opportunity to not only get our names out into the gaming world but also to gain experience into a full development cycle - specifically what it takes to create a published iPhone game."

He added, "This project was completely ours, and we learned a great deal about not only designing fun games and indie development, but what we were capable of between the three of us."

Kowalski said the Entertainment Technology Center provides the perfect environment for students to understand the industry and work inside it, while still having the support and guidance from very talented faculty and staff.

"During the game's development, we received invaluable feedback from both students and faculty who always felt incredibly accessible."

Future plans include developing a free version as well as a version for the Android market.
Related Links: Watch the Gameplay Trailer | Entertainment Technology Center
---