Watson's College Debut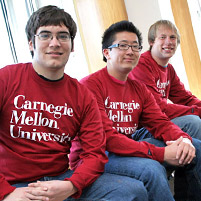 Connor, Will and Erik (l to r) prepare to take on Watson
Watson bested two all-time Jeopardy! champions during a historic TV matchup in February.

This week, the question-answering computing system took on students from Carnegie Mellon University and the University of Pittsburgh.

The demonstration took place March 30, 2011 on Carnegie Mellon's Pittsburgh campus.
It's the first time Watson played on any college campus. 
The full day of events included talks by David Ferrucci, leader of the IBM Watson project team.

IBM chose to bring Watson to CMU because of the significant role the university's faculty and students played in developing Watson.
Carnegie Mellon's experience in using computers to solve problems came long before the now famous Jeopardy-playing computer.
In 1955, CMU professor Herbert Simon and business Ph.D. student Allen Newell made a breakthrough that would place them among the founders of artificial intelligence.
Their invention of a programming language for computers to model complex human problem-solving processes resulted in, what they called, a "thinking machine."
Long after 1955, Carnegie Mellon's excellence in computing continues.
Because of the long-standing collaboration between IBM and CMU on question-answering technologies and natural language processing, Eric Nyberg, professor in the Language Technologies Institute, consulted with IBM from the beginning of the Watson project.

His Ph.D. students, Nico Schlaefer and Hideki Shima, both contributed important algorithms and components during the development of Watson.

IBM and CMU also worked together to develop an open-source architecture that is available to all researchers in the field of question-answering.

A demonstration between Watson and student teams from CMU and Pitt, hosted by IBM Watson researcher Eric Brown, was one of the highlights of the day.
Final score of the game: Watson: 52,199, Pitt: 12,937, Carnegie Mellon: 7,463.

Representing CMU were Connor Fallon, a junior English major and president of the Games Creation Society; Erik Schmidt, a junior electrical and computer engineering major and secretary of IEEE at CMU; and Will Zhang, a junior computer science major and president of ACM@CMU.

After the match, Ferrucci, Brown and Nyberg fielded questions from the audience, along with Scott Fahlman, CMU research professor of computer science and language technologies, and Diane Litman, faculty director of the Intelligent Systems Program at Pitt.

Bernie Meyerson, IBM vice president of innovation and university programs, also participated in the March 30 programs.
IBM's archived footage of most of the day's events can be found on LiveStream.
Related Links: Event Information | Archived Footage | This Is Jeopardy! | LTI | School of Computer Science | School of Computer Science
---