Investing in the Future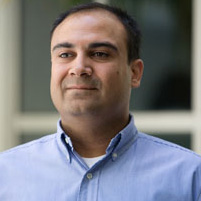 Manu Kumar
Within five years of his graduation from Carnegie Mellon University, Manu Kumar (CIT'95, SCS'97) had made his indelible mark as an entrepreneur.
As an angel investor, he's now helping other young graduates do the same. Case in point: the team at CardMunch, a company he co-founded and funded through his firm K9 Ventures.
Created just over a year ago by a team of CMU alumni, CardMunch was recently acquired by LinkedIn, the powerhouse professional networking site.
"CMU alums have one of the most amazing work ethics I have ever encountered," he noted. "It's a get-it-done attitude that is the best in its class."
Kumar says it's this attitude that helped the CardMunch team succeed so quickly.
"CMU alums also have an amazing ability to learn," he added. "They can pick up things very quickly — a huge asset in the world of tech startups where things change quickly."
Kumar had previously founded two successful companies, working on both occasions with predominantly CMU teams.
While still a student, Kumar began SneakerLabs, a firm that provided pre-sales customer support on the Web. It was purchased by Octane/E.piphany in 2000.
His next venture, iMeet, a provider of web-conferencing services, merged with Netspoke in 2002, and was then sold to Premiere Conferencing in 2005.
After these early successes, Kumar took a 'break,' in which he earned a Ph.D. in computer science. He then discovered his current calling as an angel investor in the Silicon Valley area.
"At the core, I am a startup guy," he explained. "I love to work with smart people on cool technology and innovative business ideas. I also love to learn and love to teach. As an angel investor, I get to do all of this."
Kumar credits a great deal to his CMU experience.
"My CMU education and, most importantly, some of my professors played an important role in shaping me as an entrepreneur," he said.
Given his positive experiences, Kumar would welcome the chance to work with other talented young alums. But he has more to add.
"I would love the opportunity to tell every Carnegie Mellon University student to remember that starting a company is an option for them," Kumar said. "In fact, I would yell that from the rooftop of Hamerschlag Hall if I could."
Kumar was awarded CMU's Recent Alumni Award in 2004.
Related Links: K9Ventures.com | College of Engineering | School of Computer Science | Tepper School of Business
---