GroupMe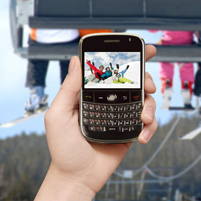 Last May, Steve Martocci (HS'04) got a call from a friend who had a problem.
Email chains were causing issues for those on-the-go. How could they solve the problem with mobile communication?
Three days later, Martocci walked into the TechCrunch Disrupt Hackathon, where he developed a prototype allowing groups to text message each other similar to private chats and group emails.
The prototype became the company GroupMe — which just won the award for Breakout Digital Trend at the South by Southwest Interactive Awards.
Martocci says things happened pretty fast after the Hackathon.
He and Jared Hecht, the friend who called to problem solve, co-founded a company. And they both left their day jobs.
Four months after the protype was created, they launched the beta release of GroupMe at a San Francisco TechCrunch event. The founders stepped off the stage into their second round of successful financing.
GroupMe now offers conference calling, smartphone features and foursquare integration. But it works on every phone. The company's goals are simple and powerful.
"We have a fundamental premise," explained Martocci. "We want the product to work for anyone, anywhere, anytime. The things we've built on top of that are really special, but we don't overwhelm you with complicated features. It's about ease of use and a good experience."
Apparently, it's working. GroupMe sends over 1 million texts per day and continues to grow. They're looking to move into international service and more.
Martocci credits a great deal to his time at CMU.
"CMU was my top choice," he said. "I'm an entrepreneurial, consumer-facing, business kind of guy, not just a programmer. I really like interfacing with people, bringing products to life, and managing teams."
He honed his entrepreneurial ability in a number of classes as he pursued his undergraduate degree in Information Systems at the College of Humanities and Social Sciences.
"Information Systems was a perfect mix for me. It rounded me out really well," Martocci explained. "In my entrepreneurship classes, I learned how to attack things and get started. Early on, I went to my instructor, Babs Carryer, for advice, and definitely used the network to get my foot in the door. It was a great stepping stone for me."

Fittingly, GroupMe's primary investor is Khosla Ventures, founded by Vinod Khosla (E'78) — an active alumnus and former member of CMU's Board of Trustees.

Martocci, a native Long Islander with ties to Pittsburgh, just has one problem left.

"I'm stuck between both the Jets and Steelers fans," he laughed.

Related Links: GroupMe | TechCrunch
---