Girl Powered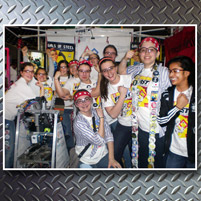 Two dozen young women made their way to St. Louis this week with one goal — to build a winning robot.
Known as "Girls of Steel," the Carnegie Mellon University-mentored high school team is competing in a major championship known as FIRST — For Inspiration and Recognition of Science and Technology.
Their success has inspired high schools to start similar programs to encourage girls' interest in robotics.
The first-year, all-girls robotics team from the Pittsburgh area is competing April 27-30 in the finals, after winning regional All-Star Rookie awards in Pittsburgh and Washington, D.C.
The 24-member team includes girls from 11 Pittsburgh area high schools, one from a home school and three from schools outside the Pittsburgh area.
Their challenge was to design, develop and build a robot in six weeks, using a common kit of parts provided by FIRST.
Systems scientist George Kantor, lead mentor for GoS, and Chuck Whittaker along with other members of CMU's Field Robotics Center have hosted and mentored the team.
"Learning about and then actually building the robots at the Robotics Institute has been a real plus for the girls," said Patti Rote, CMU's robotics industry program director. 
"The educators at CMU realize that what's missing in the classroom today — students never get to apply what they learn."
Rote says at the Field Robotics Center, CMU mentors taught the girls new things about physics and programming. And then the girls went into the lab and got to apply those lessons by building an actual robot.
"If they programmed their robot wrong, they could see it right away by observing the robot's actions. Then they could immediately go back, check the code, find the error and figure out how to correct it," Rote explained.
"They get to do all the work, unlike other teams they've heard of where boys do all the work and girls stand on the sidelines."
The Girls of Steel will be joining more than 9,000 students from Australia, Canada, Israel, Mexico, and the U.S. at the event.
"Notably, Girls of Steel is one of just eight all-girls teams," Rote said. "And we believe it's the only rookie team in the group."

For the championship, the robots are required to place tubes on pegs to form FIRST logos and then deploy mini-bots to travel up a 10-foot pole where they will hit sensors at the top.
This year, FIRST will offer scholarships for college-bound participants worth nearly $15 million.
The success of the Girls of Steel team so far has already sparked interest from The Ellis School, where a mini robotics course will be offered to high school students. A robotics course also will be taught to middle school girls beginning in the fall.
"My dream is that more schools will want to have more robotics technology, not as an enabling technology but as a course," Rote said. "I think we're getting there."
Related Links: Field Robotics Center | Robotics Institute
---