GigaPan Time Machine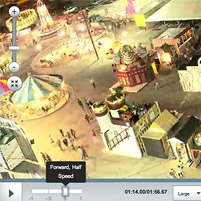 Researchers at Carnegie Mellon University's Robotics Institute have leveraged the latest browser technology to create GigaPan Time Machine.
It's a system that enables viewers to explore gigapixel-scale, high-resolution videos and image sequences.
Viewers can pan or zoom in and out of the images while simultaneously moving back and forth through time.
For instance, they can watch a group of plants sprout, grow and flower. And they can explore as some plants grow wildly while others get eaten by caterpillars.
Or, they can view a computer simulation of the early universe — watching as gravity works across 600 million light-years to condense matter into filaments and finally into stars.
"With GigaPan Time Machine, you can simultaneously explore space and time at extremely high resolutions," said CMU's Illah Nourbakhsh, associate professor of robotics and head of the CREATE Lab at CMU.
"Science has always been about narrowing your point of view — selecting a particular experiment or observation that you think might provide insight. But this system enables what we call exhaustive science, capturing huge amounts of data that can then be explored in amazing ways."
The system is an extension of the GigaPan technology developed by the CREATE Lab and NASA.
GigaPan can capture a mosaic of hundreds or thousands of digital pictures and stitch those frames into a panorama that can be interactively explored via computer.
To extend GigaPan into the time dimension, image mosaics are repeatedly captured at set intervals. Then they are stitched across both space and time to create a video in which each frame can be hundreds of millions, or even billions of pixels.
Guidelines on how individuals can capture their own time-lapse images using GigaPan cameras are included on the GigaPan Time Machine website. (Note: At this time, only Safari 5.0+ and Chrome 7.0+ are known to be compatible.)
Though the time-lapse mode is an extension of the original GigaPan concept, scientists already are applying the visualization techniques to other types of Big Data.
CMU's Bruce and Astrid McWilliams Center for Cosmology, for instance, has used it to visualize a simulation of the early universe performed at the Pittsburgh Supercomputing Center by Tiziana Di Matteo, associate professor of physics.
"Simulations are a huge bunch of numbers, ugly numbers," Di Matteo said. "Visualizing even a portion of a simulation requires a huge amount of computing itself."
Visualization of these large data sets is crucial to the science, however. "Discoveries often come from just looking at it," she explained.
Google Inc. supported development of GigaPan Time Machine.

Related Links: GigaPan Time Machine | Robotics Institute | PSC Celebrates 25 Yrs
---