CardMunch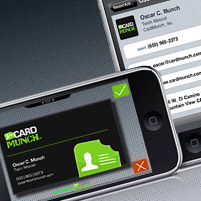 As students, Bowei Gai and Sid Viswanathan spent late nights hatching 'crazy' ideas at Carnegie Mellon University.
They didn't know how soon those ideas would land them at LinkedIn, the powerhouse professional networking site.
LinkedIn recently acquired CardMunch, the startup founded by Gai (E'06,'07), Viswanathan (E'06) and fellow alums Sudeep Yegnashankaran (E'09) and Manu Kumar (E'95, CS'97).
CardMunch lets users convert business cards to phone contacts by simply snapping photos via a mobile phone. Unlike other services, a team of human transcribers assures accuracy.
Gai and Viswanathan brainstormed the CardMunch concept during a meeting with Kumar from K9 Ventures, which provided the seed investment for the company.
Yegnashankaran signed on a month later.
"CardMunch is really a story of the power of the CMU network," said Yegnashankaran.
"From the get-go, the CMU network was invaluable — for finding everything from legal help to equipment to talented student contributors," added Gai, already a veteran of another successful CMU startup, Snapture Labs.
"For advice, I could go to so many of the great mentors I had at school. Everyone was so available and supportive. It was amazing."
The CardMunch team attended a LinkedIn developer event last November to learn about creating a related feature. After demos to a few company engineers, the word spread quickly.
By the end of January, LinkedIn had purchased CardMunch, only the company's third acquisition. And now they're offering the transcription service free of charge.
"If you look around, the world still runs on business cards. We don't believe it's going away anytime soon," noted Gai.
"LinkedIn is the world's largest professional network — more than 90 million business users constantly exchanging contact information. If we can make their lives easier, it's a huge value-added."
LinkedIn's first acquisition, mSpoke, was another CMU story, founded by alums and advised by CMU professors.
"At mSpoke, we developed personalized online content recommendations," explained co-founder Dean Thompson (SCS'89), who is now director of LinkedIn's content insight team.
"We're focused at LinkedIn on developing new products that will give our members information valuable to them professionally."
He added, "It's extremely exciting. We're really just scratching the surface of what can be done. None of us can fully picture the ultimate value of the social network to the world's professionals."
Thompson credits a great deal to his time at CMU.
"It's a really solid, highly-sophisticated computer science education," he explained. "I worked with and learned from some of the best. It's instant credibility. Wherever you go, the Carnegie Mellon name sets a certain level."
Like the CardMunch founders, Thompson's career has flourished through his invaluable CMU network.
"Your time at the university is when you start building a network that will be important to you professionally," said Thompson.
"For the CMU alums I know, most of the opportunities they've gotten are chain reactions from attending CMU."

Related Links: CMU LinkedIn Group | School of Computer Science | College of Engineering
---