Computer Science at Work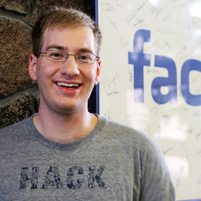 Ben Maurer
Fresh out of Carnegie Mellon University, Ben Maurer (CS'08) impacts millions each day — as an infrastructure engineer at Facebook.
"At Facebook, we have a million to one user-to-engineer ratio, which means that everybody is focused on tasks which are high leverage," explained Maurer, who is one of at least 45 CMU alumni at the social networking powerhouse.
"Very few companies let an individual have as much impact."
Maurer's work includes helping to design and kick-off large projects, debugging 'nasty' infrastructure problems, and assisting teams with urgent issues.
Previously, Maurer worked with CMU assistant professor Luis von Ahn to build the widely used reCAPTCHA service. He'd gotten to know von Ahn after taking his freshman class.
reCAPTCHA was purchased by Google in 2009.
"reCAPTCHA was a fantastic experience," said Maurer. "I got the experience of building a piece of infrastructure used by large websites from the ground up, learned about going through an acquisition, and much more."
Maurer's experiences translate to real-world opportunity that's unparalleled for computer science undergraduates, says Jeannette Wing, head of CMU's Department of Computer Science.
As proof, Wing points to the #1 ranking by the School of Computer Science's undergraduate program in computer science ranks in The Wall Street Journal recruiter rankings.
"We're not producing nearly enough graduates for the demand that is out there," said Wing, who was recently awarded the 2011 Distinguished Service Award of the Computer Research Association.
"Not only can our students think at multiple levels of abstraction simultaneously, but they really understand what it means to get the job done," she explained. "Our graduates have had real experience and can hit the ground running. Companies know that."
Maurer agrees.
"One of the greatest values that CMU provided me came from projects I did outside the classroom," said Maurer.
"From building a course management system, to helping to audit the school's infrastructure, to all of the work I did with Luis, the experiences were so valuable."
Wing also points out the numerous high-level positions that Ph.D. alums have attained, like Microsoft's Harry Shum and Qi Lu.
"There's something special about our Ph.D. students," observed Wing. "First, the breadth of computer science at CMU is much greater than you see at the other institutions. Second, CMU is very collaborative and interdisciplinary. Our students are exposed to that as the norm rather than the exception."
"Computing here is exciting and fun," she added. "The best is yet to come."
Related Links: School of Computer Science
---