Lesson in Success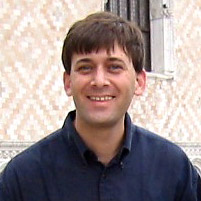 Fostering enthusiasm for algorithms may sound like a stretch. Not when Avrim Blum is involved.
The Carnegie Mellon University professor recently won the Herbert A. Simon Award for Teaching Excellence in Computer Science. And student nominations praised him for making the often abstract and difficult subject matter "exciting."
While Blum teaches an array of classes at various levels, most students know him through his introductory algorithms class, taught each semester to more than 100 diverse students.
"I enjoy helping the students learn how to think about algorithms," said Blum. "I like to make sure that it's fun and that everybody's learning something, which is probably the biggest challenge with students from a range of backgrounds."
Vicki Cheung (CS'11) calls Blum "inspiring." So much so that she took two more of his classes, researched with him for a summer and became his TA.
"Avrim is very passionate about the topics he teaches, and he puts a lot of thought into his lectures and explanations," she explained.
"When teaching a difficult concept, he is patient and engaging, providing multiple perspectives and examples. This makes it evident that many concepts can be applied in numerous, and sometimes unexpected, disciplines."

Blum comes by it naturally. His parents, Lenore and Manuel Blum, are also distinguished CMU professors in the School of Computer Science.
Aside from imparting a love of the field, the senior Blums would practice educational problems and explanations on their only child.
Blum laughingly recalled a time he was so engrossed in solving one of their puzzles, he missed his bus stop.
"But I got it. I solved the problem."
Blum finds that teaching is indispensible to his research.
"When you're preparing something to teach, it forces you to really understand at multiple levels," he explained. "I find that when I'm doing research I'll often pretend to teach. It's a way of distilling the ideas and concepts in order to build on them and solve some new problem."
Blum particularly loves teaching at CMU, something he's been doing for almost 20 years.
"I really enjoy class," he said. "It's a lot of fun. The students are sharp. They're smart. I've taught this class almost 10 years, but every time I learn something new."
The feelings are mutual.
"There are a lot of outstanding professors in the school, but what makes Avrim special is that he genuinely cares about the students' learning," noted Cheung. "He has a lot of patience explaining ideas and pointing us in the right direction."
Related Links: School of Computer Science | Computer Science Dept | Simon Award
---