Wi-Fi Origins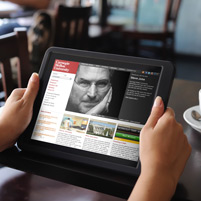 Wi-Fi permeates our lives — from reading email in airports to watching YouTube on the couch. At 36,000 feet, it's even starting to convert airline seats to remote offices.

This technological innovation saw its early days at Carnegie Mellon University.

Fifteen years ago Alex Hills, a distinguished service professor of Engineering and Public Policy and Electrical and Computer Engineering and founding director of Carnegie Mellon's Information Networking Institute, began a wireless research initiative.

It ultimately helped lay the foundation for today's Wi-Fi computing environment — a wireless network that connects laptops, tablets and smartphones to the Internet.

"The challenges in building large wireless networks are significant,'' said Hills. "We developed ways to design networks capable of handling any kind of user community.''

In his new book, Wi-Fi and the Bad Boys of Radio, Hills takes you back to the days when cell phones were the size of bricks and email took ten minutes to load — and there was no Worldwide Web (gasp!).

From there, he tells the story of how he led a small band of innovators to overcome "the bad boys of radio" — the devilishly unpredictable behavior of radio waves — and build the network that would become the forerunner to today's Wi-Fi.

From his start as a teenage "ham operator" and bringing radio, TV and telephone service to the Eskimos of northern Alaska, Hills' journey led him to CMU and ultimately the realization of his extraordinary vision of a day when people would carry small handheld devices that were always connected.

CMU has many years of experience designing and building these networks. The university began building the first such network anywhere in 1994, long before the Wi-Fi standard was adopted.

It's called "Wireless Andrew,'' named for university benefactors Andrew Carnegie and Andrew Mellon.

Started as a National Science Foundation-funded research network to support CMU's wireless research initiative, Wireless Andrew originally provided coverage in seven campus buildings.

It was expanded in 1999 to serve all 65 residential, academic and administrative buildings on the campus — covering approximately 3 million square feet as well as outside areas.
"What was the vision of information networking in 1989 is actually a reality in today's world," explained Hills.

Over the coming decades, the Wireless Andrew infrastructure created at CMU will continue to be the research seedling that helps support wireless development.

Given the crucial role of communication and information, the long-term impact of CMU's Wireless Andrew initiative could boost the rate of innovation by increasing the speed at which ideas spread between businesses, within economies and across countries.
Related Links: About the Book | Watch video | Engineering & Public Policy | Electrical & Computer Engineering
---