Vision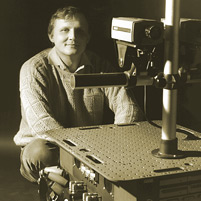 Hans Moravec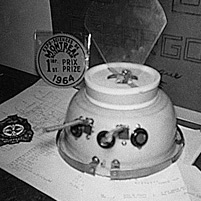 Robug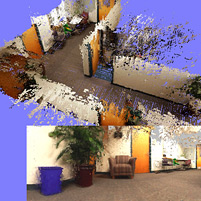 3D grid "vision"
Hans Moravec has always been ahead of his time. It began with the mechanical wooden men he constructed as a toddler in 1950s Austria. It continued in high school with his light-following 'robug.'

Now a professor in Carnegie Mellon University's renowned Robotics Institute, Moravec is also the co-founder of Seegrid, a manufacturer of cutting-edge robotic industrial trucks.

Seegrid's unique vision-guided vehicles are borne of Moravec's complex and innovative research. The company's unmanned trucks and tractors operate without wires, tapes or lasers, reducing cost and increasing productivity.

As the name implies, the trucks see via the use of advanced 3D grid technology. Just as important, they have the ability to learn.

"The learning is completely critical to our system," explained Moravec. "The robot doesn't learn the environment. It learns how to see, how to interpret the things that its sensors are telling it and determine what's really there."

"You can literally teach the robot a path hundreds and hundreds of meters long — around aisles, through tunnels — a completely free environment. When it's driving on its own, it figures out where it is now compared to where it was and should be."

Moravec was a pioneer in researching intelligent mobile robotics in the '70s. And he developed the 3D grid capability years before the necessary computing power.

"Even from the '80s, the idea was to do this in 3D, but that would have taken a thousand times the available computing power," he said. "I predicted we'd have that in about 2000. In fact, I wrote the first 3D grid basics in 1992, but didn't have computing power to do very much with it at the time."

After more than 30 years at CMU, Moravec has only good things to say about the university that encouraged his vision and his company. And CMU continues to nurture spinoffs like Seegrid through Greenlighting Startups, a new initiative aimed at accelerating CMU's already impressive record of turning campus innovations into sustainable new businesses.

Seegrid recently garnered attention as host for one of five Pittsburgh-area 'Listening and Action Sessions' of President Obama's Jobs Council, meetings designed for local executives to network with presidential advisors.

Other CMU faculty and alums participating in the day included Jobs Council member Lew Hay (TPR'82), CEO of NextEra Energy. He attended a session at Aquion Energy, itself a CMU spinoff founded by CIT assistant professor Jay Whitacre. Ray Lane, chairman of the board of Aquion is also chairman of Carnegie Mellon University's Board of Trustees.

Seegrid has undergone its second expansion in two years and with dozens of customers, is poised to double its workforce of 67 within the next 18 months. Among those employees are a number of CMU alums, including CFO Mark Faurie (TPR'78).

Not surprisingly, Moravec, author of two books on robotic intelligence, continues to look ahead.

"I want fully intelligent robots that can do anything that a person can do and much more," he noted. "In my mind, this is just a stepping stone."
Related Links: Greenlighting Startups | Moravec's homepage | Bio | Seegrid | Robotics Institute | Press release
---