Facebook CEO Visits CMU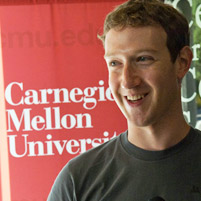 Facebook founder and CEO Mark Zuckerberg made his first visit to Carnegie Mellon University on Tuesday, Nov. 8.
"We have a lot of Carnegie Mellon alums at Facebook and a lot of them are actually some of our best engineers," said Zuckerberg, in a brief meeting with the press. "So when we decided to organize this trip to go see a few colleges, Carnegie Mellon was at the top of the list."
While here, Zuckerberg met with faculty and students and gave a talk to an invitation-only audience. The prime motivation for the visit was recruiting future employees from CMU.
"Facebook looks for really entrepreneurial folks, people who are trying to have a big impact on the world and who have the ability to look at many of the hundred different problems at once and say, OK this is the one that we really need to solve," explained Zuckerberg.
He added "At Facebook, we serve a lot of users and customers — more than 800 million people around the world. But the organization is actually really small. We just passed, I think, 700 engineers. So each engineer at Facebook serves more than 1 million users themselves. We need people who really have this desire to have a huge impact on the world and that's really the biggest thing that we look for, and obviously really good technical skills."
Though this will be Zuckerberg's first visit to Carnegie Mellon's Pittsburgh campus, he and his colleagues at Facebook are well-acquainted with the university, which boasts a consistently top-ranked computer science program. Facebook is a major recruiter at Carnegie Mellon and employs almost 60 alumni. Many CMU students have benefited from internships with the Palo Alto, Calif., company.
Zuckerberg, 27, famously created Facebook in 2004 while a computer science student at Harvard. What began as Facemash, a website for comparing student photos, rapidly evolved into Facebook. It is now the most used social networking site in the world with more than 800 million active members. Zuckerberg was Time magazine's Person of the Year in 2010.
Related Links: Read the Press Release | School of Computer Science | Carnegie Institute of Technology | Carnegie Mellon on Facebook
---