A New Course in Sports Technology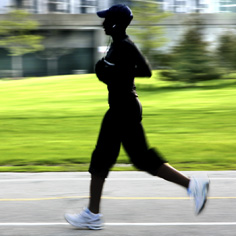 As you run, your playlist matches the next song with your tempo; your tennis racket offers tips on how to improve your serve; your hockey stick gives you the speed of your slapshot.
These concepts and more are becoming reality in Carnegie Mellon's new Sports Technology course. Taught by Priya Narasimhan, associate professor of electrical and computer engineering (ECE) and a die-hard Pittsburgh Penguins and Pittsburgh Steelers fan, the course gives students the chance to improve and evaluate athletic performance and the fan experience in their favorite sport.
"I really fell in love with sports after I moved to Pittsburgh, so I've been long wanting to do something that combines both the sport side as well as the technology and embedded systems that I teach," explained Narasimhan. "My students and I learned so much about the sports industry and sports technology from working with the Pittsburgh Penguins on YinzCam that I wanted to share my knowledge and open students' eyes to the possibilities of engineering careers in this industry."
Launched last fall, a course like this had never before been offered at a university in the United States. Students gain experience in designing realistic and practical embedded and mobile systems, as well as other applications that can enhance the training, coaching, playing, broadcasting, safety and viewing of various sports.
"I was an athlete for four years here, so when the opportunity to take a class that was in engineering [and] related to sports came along, I was really excited for it," said Gregory Pitts (E'10).
In the inaugural course, Pitts and his teammates — Will Constable, Amandianeze Nwana, Devon Yang and Jessica Liao — created a "smart" tennis racket that shows players exactly where on the racket they hit the ball. This helps them get a feel for the "sweet spot" on the racket and thus improve their shot.
While the course focused on embedded systems, it was also an opportunity for students to learn the business aspects of how to create a start-up, commercialize a concept and sell a product.
"It's a real-world application of everything we've been learning so far at Carnegie Mellon," said Amandianeze Nwana (E'10), one of Pitts' teammates on the smart tennis racket project.
In addition to project work, the course brought students face to face with leaders in the industry from companies, like Cisco Systems and Wilson Football.
The UPMC Sports Medicine Complex physicians and the Carnegie Mellon Tartans football team coaches also got into the act, giving guest lectures on their sports technology. Students benefited from a behind-the-scenes tour of the technology within the Pittsburgh Steelers facility and NEP Broadcasting, a major live sports broadcasting company. They also learned about career opportunities that exist in the sports technology industry — especially for those with engineering backgrounds.
"The sports industry has lots of opportunities for technology. All the way from impacting the fan experience to rehab after injury, game day, pregame day — everything," said Narasimhan. "My hope is that our amazing students go out into the sports industry and they dominate because we've given them the engineering skills to go do that."
She continued, "Only at CMU could I marry my passion for sports and for technology to create unique research projects like YinzCam and Myron, and teach courses like Sports Technology. Through this course, I wanted my passion to rub off onto these students."
Related Links: Watch Video  |  Sports Technology on iTunes  |  About Priya  |  A Passion for Discovery  |  YinzCam  |  Smart Football
---