Students Boost GE Productivity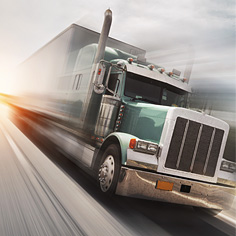 New handheld technology developed by students from Heinz College's Master of Information Systems and Management program is boosting productivity for a GE sales team.
What's behind the increase? The sales team can now use a mobile device to match a customer's needs with the company's offerings — all while sitting in the customer's office.
"[The tool] keeps our sales team in front of the customer, rather than in the office updating files," said Brent Russell, commercial leader for GE Trailer Fleet Services. "We can complete the sales discovery process in real-time, pulling up our current inventory right during a face-to-face meeting. It allows us to close the deal while we are sitting with key decision makers."
Russell noted, "The added productivity savings has allowed us to reallocate 'office time' to more 'customer-facing time.' This has been a big win, and a competitive advantage for our commercial team —very helpful during a tough economic time in our industry."
Trailer Fleet Services is a GE Capital company that rents, leases and sells late-model big-rig trailers across the country. Customers use the trailers to haul food, raw materials and finished goods for the nation's manufacturers and retailers — be it for long distance runs or regional and local deliveries and storage.
To increase its market share in short-cycle sales, the 50-year old leasing company needed a better tool to help its field-deployed sales team connect wirelessly back to their branch offices and the customer care center. The company also needed a new way to collect and leverage customer and competitor data.
A custom integrated solution was required to link existing database systems and deliver data in an online application, accessible from mobile handheld devices. The company also established aggressive goals for the project, including increasing sales call volume five-fold and doubling its active customers.
Stepping up to meet the challenge was a Carnegie Mellon project team that included graduate students Ashish Mehra, Pramod J. Mallapragada, Joseph Morse, Venkatesh Narayan and Nitika Sharma. Under the guidance of their academic advisor, Christopher Kowalsky, an adjunct professor at Heinz College, the team created detailed process maps for the Trailer Fleet Services' lead generation and sales cycle.
Working with key company stakeholders, they designed an optimized process facilitated by their new "Sales Discovery Application." The software created efficiencies by pre-populating sales forms and issuing automated emails for quote requests and customer follow-up. The new system also leveraged the sales team's mobile devices to improve data-capture, enabling more accurate performance metrics and new customer data-mining opportunities.
"The GE TFS project challenged the student team with a complex, real-world business problem that tested all of the skills developed at Heinz College," noted Kowalsky. "Our students learned that project success depends on more than good technical solutions. It also requires disciplined project management and solid client communication."
Related Links: MISM Program  |  Heinz College
---