Wins IBM Fran Allen Scholarship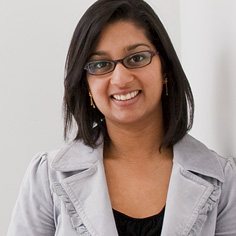 The international workplace is getting easier to navigate thanks to new technologies and the work of researchers like Aruna Balakrishnan, the latest recipient of the prestigious
IBM Fran Allen Scholarship
.
"Collaborating with partners around the globe — be it among international companies or within academia — presents challenges not only with coordinating people and information, but also with information overload," said Balakrishnan, a Ph.D. student in Carnegie Mellon's
School of Computer Science
. "I study how computers and technology can support such collaborative work; in particular, I have studied the impact of different kinds of visualization technologies on the effectiveness of information sharing and problem solving in remote collaborations."
She has also conducted field studies to explore the impact of organizational and environmental factors on technology adoption and patterns of information sharing.
Balakrishnan finds Carnegie Mellon University is unlike any other school — and gives credit to the community itself.  
"The people at CMU are the best in their fields and are exciting to be around. It is inspiring to see the excitement and dedication of the many faculty and students here," she said.
And through her work with Women@SCS, Balakrishnan is bringing that community closer together.
As a woman in a field traditionally occupied by men, Balakrishnan decided early on to get involved with the Women@SCS — as well as to offer her support to others. She feels fortunate to have been surrounded by strong female role models — from her mother to her boss at the RAND Corporation to her advisors at the university — and recognizes that not everyone is in a similar situation.
"Women@SCS offers many opportunities, does amazing outreach work to draw more women into computer science programs and offers support through a mentorship community," she explained.
More specifically, she started the Women@SCS tea hour to foster an informal mentoring and networking program for graduate women in SCS.
"At times, you can feel overwhelmed with life or with grad school, and it is much easier if you feel like you have someplace or someone to turn to for help," she said. "I wanted the tea hours to be one more place where people could share a smile, offer friendship and be reminded that they are not without resources."
Related Links: IBM Fran Allen Scholarship  |  School of Computer Science
---