Robot Diaries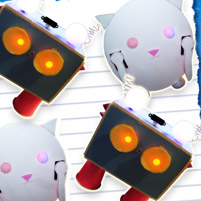 Many robotics activities are available for seventh graders but most are competition-driven, appealing mainly to the competitive personality type. So researchers at Carnegie Mellon created the Robot Diaries curriculum, aimed at getting students with more reflective personalities interested in robotics, too.
A Robot Diary is a robot that students design to serve as a means of expressing their thoughts and emotions.  Small groups of students put the robots together using arts and crafts materials with which they are already familiar.
At the same time, the project introduces traditional robotics equipment — such as LEDs to make eyes light up and motors that can make an arm or leg move — promoting technological literacy and informal learning.
Using light, sound and movement, students can choreograph their robots to be responsive to a diary entry or other piece of text. Students can also explore emotions, thoughts and ideas through sharing their Robot Diaries with each other.
Tom Lauwers, a recent graduate of CMU's doctoral program in robotics and co-creator of the Robot Diaries curriculum, expects that the project will be used in schools in the near future — and that it will increase the diversity of personalities interested in becoming engineers and scientists.
"Broadening the diversity of robotics curricula has an impact beyond simply creating more engineers and scientists, which most people agree the U.S. needs," he said. "It also broadens the projects and products created by those engineers and scientists."
What interested Lauwers about the project was the potential to create an innovative educational program that would be used by students and in schools relatively quickly.
"I tend to be oriented towards research that pays off quickly, and by 'pays off,' I mean that it improves people's lives in the short term," Lauwers said. "Most research does result in an improvement to someone's life, but in many cases, seeing that improvement can take decades."
According to Lauwers, one of the most attractive aspects about the research environment at CMU is the pervasive willingness to collaborate.
"Most research focusing on educational applications of new technology can only be accomplished by teams of people with a wide range of backgrounds — engineering, computer science, learning sciences, curriculum development, educational evaluation," he added. "It would have been difficult to assemble such a team at most universities."
Related Links: Learn More | Robotics Institute
---