Making Sci-Fi a Reality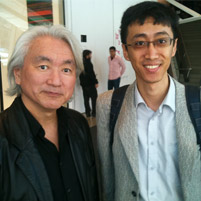 Picture a distant future. Humans are looking for a new home — a habitable planet in the far reaches of the galaxy.
Enter SensorFly "swarmbots" — part of a mobile-controlled flying sensor network developed at Carnegie Mellon University's Silicon Valley campus by Carnegie Mellon's Pei Zhang. These little 'bots could one day be the key to making this science-fiction a reality.
Or so says Dr. Michio Kaku, physicist, best-selling author and host of the Discovery Science Channel's Sci Fi Science. Zhang's work was recently featured on the show's "Galactic Colonization" episode. (Watch a clip.)

In the here and now, Zhang's flying robotic network has life-saving applications. The robots can monitor changes in dangerous environments, such as earthquakes or fires.
And they can then communicate with each other through onboard radios, allowing others to avoid being damaged by the dangerous environment. Constant monitoring of such situations is crucial to keeping rescuers safe and victims alive until they can be reached.
Zhang enjoyed the opportunity to work with Dr. Kaku and put his mobile-sensor network in the context of an unknown future. "Michio and I chatted about everything from dark energy to helicopters putting Captain Kirk out of business," Zhang said.

According to Zhang, traditional sensor networks fall short of the need in emergency situations. But SensorFly — with its miniature helicopter-based mobile sensors — is far less expensive to place and deploy than traditional static networks and is, by its nature, resilient in a dynamic environment such a disaster scenario.
"In the face of hazards like smoke, heat and open electrical lines, the survival rate of individuals drops steeply as the time that they remain trapped increases," said Zhang. "In many cases, survivors are not conscious, or are immobilized, and therefore unable to attract the attention of rescue workers outside the building. SensorFly can enter the building in this scenario and search for survivors without risking lives or wasting the time of the rescuers."
Zhang, an assistant research professor in the university's Information Networking Institute (INI) and Electrical and Computer Engineering Department (ECE), says the SensorFly system has many potential applications where autonomous and rapid operations are needed.
For example, the system could be used in urban combat situations where both civilians and combatants hide in buildings. It could also assist in security alarm applications, such as home intruder scenarios, and elder care, such as in-home emergency verification.
Zhang, who conducts his work in Silicon Valley, says he came to CMU because of the students.
"Carnegie Mellon attracts some of the best students in the world. They are a joy to teach and work with, but most importantly they have an innovative nature that is critical for being great future researchers," Zhang said.
Pictured: Dr. Michio Kaku and Pei Zhang

Related Links: Watch Sci Fi Science Video | Watch Demo on YouTube | Carnegie Mellon Silicon Valley | Information Networking Institute | Electrical & Computer Engineering
---