Studying the Behavior of Privacy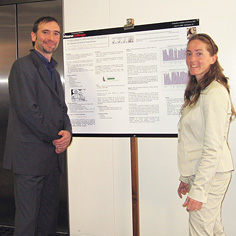 When Laura Brandimarte first attended a lecture by Carnegie Mellon University's Alessandro Acquisti, she didn't even know behavioral privacy was a field of research. Today, as a Ph.D. candidate at the Heinz College, it is her passion.
In December 2006, Acquisti — who is an associate professor of information technology and public policy at Carnegie Mellon's H. John Heinz III College — was invited to present his behavioral privacy research at a conference organized by the Economics Department of Tor Vergata, Italy.
"I found it so fascinating that I started to read more and more about it, and I decided to apply to CMU, because nobody at Tor Vergata or in Italy was studying those things," Brandimarte said. "Alessandro was using economics, with which I was familiar, to study human decisions and behavior regarding privacy. It was an approach that I found incredibly smart and yet so natural, one that made me say: how come I didn't think about that before?"
As soon as she was accepted at CMU, Brandimarte abandoned the doctorate she was pursuing in finance in Italy and started her Ph.D. all over again. Now, she is using tools from behavioral economics to study privacy and decision-making — why people sometimes decide to reveal personal information so easily, whether their decisions are rational, and what are the consequences of their decisions related to privacy protection.
For example, how does an organization provide users a customized experience online without being intrusive? and how much personal information is too much too reveal to an organization? In these and many other situations, behavioral privacy combines economics and psychology toward reaching a solution that benefits all parties involved.
Brandimarte says an interesting research topic is the toughest thing to find for a Ph.D. student.
"Privacy-related research has been a hot topic for years now, and Alessandro's angle is so innovative that it catches the attention of both academics and the media," she said.
Brandimarte hopes to become a professor in Italy and become for other students what Acquisti has represented for her:  a guide and a mentor.
"Teaching is a profession that I always held in great respect and esteem, because teachers have the great responsibility to feed students' minds and to keep them open and lively," she said. "I think that teaching is not just another job, it's a mission in a way. And research is the other challenging side of academia. Finding good answers to research questions is so stimulating, and I hope to be able to transmit to other students the passion I have for it."
Brandimarte attributes much of her success at CMU to Acquisti being not just a research advisor, but a friend, easy to reach and available to assist her in meeting the next challenge.
"Alessandro is a trusted person, a guide I can go to if I need a suggestion, related or not to my privacy research, in which he's no doubt the number one expert," she said.
Related Links: Watch Video: Acquisti Discusses His Research  |  Acquisti's Homepage  |  A Holistic Approach  |  Facebookers Beware  |  Heinz College
---