Last Lecture, Lasting Impact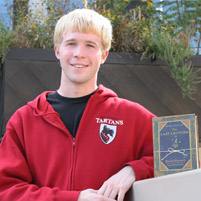 It's been three years since Carnegie Mellon Professor Randy Pausch delivered the lecture heard around the world.
The lasting impact of Pausch's powerful 'Last Lecture' — and its accompanying messages found in the book he co-wrote with fellow alum Jeffrey Zaslow of The Wall Street Journal — continue to inspire young students and draw them to Carnegie Mellon. Tyler Hedrick (CS'14) is one of those students.
"I absolutely loved 'The Last Lecture' and Randy Pausch's story," said Hedrick, who has now read the book twice and watched the lecture three times. "I first watched the lecture on YouTube three years ago. Because of it I researched Carnegie Mellon and fell in love with the university."
Hedrick says it was Pausch who inspired him to try his hardest in high school so that he would be given the chance to come to "such a wonderful university."
It was also Pausch who inspired him to pursue his interest in computer science.
"My passion for computers and technology has grown as I've gotten older, and each time my family gets a new computer, I spend hours just messing around with it, just to answer questions such as 'what if I did this...' or 'what would happen if I changed this...?'"
Ironically, when Hedrick applied under early decision, he hit what Pausch calls a brick wall.
"I was deferred.  But as we all learned from Randy, brick walls are there to show us how much we truly want something," he said.
The next day, Hedrick began hounding his teachers for more letters of recommendation. His persistence paid off; he was accepted into the Class of 2014.
Pausch's lecture became an Internet sensation viewed by millions, an international media story, and a best-selling book that has been published in 35 languages. To this day, people everywhere continue to talk about him, sharing his message and putting his life lessons into action in their own lives.
Pictured: Tyler Hedrick (CS'14) standing on The Pausch Bridge, which connects the Gates Center with the Purnell Center for the Arts.

Related Links: Entertainment Technology Center | Computer Science Department | Alice.org
---