Degree, Connections Open Doors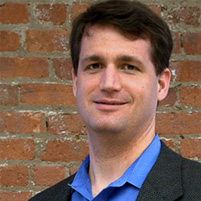 Jonathan Betz (CS'99) graduated from Carnegie Mellon more than 10 years ago, but his connection remains as strong as the day he left.
Prior to Yext, he held leadership roles at other startups and spent five years building new products for Google. He believes his Carnegie Mellon experience has had a very direct impact on his success in a number of ways.
"Because of my connection to Carnegie Mellon, I had the opportunity to get started in the hiring process for Google's New York office four months before it was announced that there was going to be an office," he said, having learned of it through school friends.
He added, "In my industry, it's matter-of-fact that 'Carnegie Mellon Computer Science' opens the door with almost any potential employer."
Betz particularly recalls the positive influence of his relationships with Professor Mark Stehlik, now Assistant Dean of Undergraduate Education in the Department of Computer Science, and Professor John Anderson, R. K. Mellon University Professor of Psychology and Computer Science, with whom he spent three years conducting research.
"It is Mark's passion in life to teach computer science. If 10 percent of the world had as much passion for their jobs as he does, we'd all have flying cars and shoes that tie themselves," he said, adding, "John is somebody who was checking in on my work every week and helping me think through, 'Here are the roadblocks. How do I get past those roadblocks?' He has a tremendous talent for one-on-one coaching and teaching."
As a student, Betz was struck by the commitment of the faculty, encountering the same dedication while serving as the student representative to the School of Computer Science (SCS) curriculum committee, with Stehlik and Randy Pausch.
"There was this sense that the people who were teaching the courses weren't just checking off boxes on a list, but were doing it because it was important to them in some very deep personal way. These professors were debating how to change the curriculum because they wanted to provide the best possible learning experience to the undergrads." explained Betz, who was also part of the Emerging Leaders program during his first year.
Betz currently volunteers his time serving on the SCS Alumni Advisory Board, as well as in various mentoring activities with undergrads. It's paid unexpected dividends.
"You have these moments where you talk to somebody like your undergrad advisor or a fellow volunteer and your notion of the most that you could possibly achieve in your life gets elevated," he recalled. "Those are powerful conversations."
Betz and his wife, Lisa, recently endowed a generous fund to support the Emerging Leaders program, a cause that speaks strongly to their values.
"I am tremendously fortunate," said Betz. "I've had better luck in the 11 years since I got out of school than I've probably deserved to have had in a lifetime, and I owe so much of that to Carnegie Mellon. You put it all together and it seems like common sense — why would you not give back?"
Related Links: Yext.com | Yext Team Bios | SCS Alumni Advisory Board
---