Changing Lives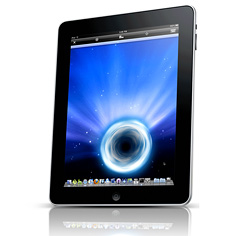 An app created by Carnegie Mellon School of Computer Science alumnus Jahanzeb Sherwani (CS'09) lets you control your computer from anywhere in the world using just your iPhone or iPad.
Called iTeleport, it replicates your computer's display on the iPhone or iPad screen so that all the windows and apps you have running on your desktop or laptop can be viewed just as if you were sitting in front of your computer.
"One user sent in a testimonial describing how he was paralyzed after a traumatic accident, rendering him bed-ridden and unable to return to his studies," Sherwani explained. "Using iTeleport, he was able to connect to his computer and access material that was otherwise impossible for him to physically control — and he said that our app completely changed his life."
Sherwani says for every such story, there are thousands of more traditional scenarios, where doctors, lawyers, students, teachers — people from all walks of life — use iTeleport to access their apps and data from anywhere.
"The idea that the work we do has such a wide impact on so many people is incredibly invigorating, and we're looking forward to seeing what the reaction will be to the future products we're working on now," he said.
Using a patent-pending interface, the entire iPhone or iPad touchscreen acts like a giant touchpad — so you can control your computer's mouse by moving your finger across the screen. And you even have full keyboard access.
Behind the scenes, the app uses a number of technology "stacks" to make this magic happen.
"Setup is quick and painless — no need to manually enter IP addresses or anything of that sort," Sherwani said.
According to Sherwani, iTeleport has three main areas of focus. First and foremost, as a mobile software startup, the goal is to help people access their digital stuff — apps, music, videos, pictures, files, and more — from any device, from anywhere in the world.
"iTeleport is also very employee-focused," he said. "We want to bring together amazing people to help do amazing things, while encouraging a culture of learning, growth and self-discovery."
Finally, he says his team firmly believes in social impact through concrete action and dedicates up to 20 percent of their time to projects with non-profit organizations.
While many regard revenues as the only benchmark of success — iTeleport has generated more than $2 million so far — Sherwani feels his team is successful more because of the impact they've had in the lives of their users.
"I believe the reason we've seen this success is because of our unrelenting attention to quality," Sherwani said. "There are free remote desktop apps available on the App Store — but users consistently rate our $25 app higher than other alternatives."
Applying the knowledge he gained as a student in Carnegie Mellon's School of Computer Science, Sherwani says iTeleport embodies high quality visual design, deep user interface experience research, as well as robust software engineering to ensure that everything runs smoothly from a technical perspective.
"It's surprisingly rare to find companies that focus on each of these fields simultaneously, and we feel that's what has worked well for us," he said.
Related Links: iTeleportMobile.com  |  Learn More: Mixergy.com  |  37signals Company Blog  |  Read WSJ Article  |  School of Computer Science
---