Human-Robot Teams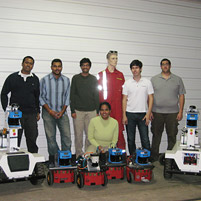 A small robot makes its way through the smoking rubble left by the disastrous collapse of an apartment high-rise. It sends critical mapping information to the excavating robot clearing debris nearby. A search and rescue robot locates two survivors behind a pile of wreckage, alerting human responders to begin rescue operations.
Human-robot coordination like this may be nearing reality thanks to a research team in Carnegie Mellon University's Robotics Institute (RI).
"We're focusing on how humans and robots can work together in a complex environment," explained Balajee Kannan, the project's research engineer. "How well can they react to dynamic situations? Can the robots augment human capabilities and make sure that humans don't get into trouble, while humans solve problems that robots can't?"
The robots would operate with 'sliding autonomy,' working independently yet recognizing when human help was required. Cooperation and communication would allow the team freedom from central decision-making.
The two-year-old study builds on five years of prior work with several others including robotics professors Brett Browning, Anthony Stentz and Manuela Veloso, as well as the dissertation of the principal investigator and Carnegie Mellon Prof. M. Bernardine Dias.
The Boeing-sponsored team was formed with three undergrads as key members. One has already been accepted into the Robotics Institute master's program and the others hope to also pursue graduate degrees. Faculty, staff, and students work closely together.
"The students are the core, the essence of these projects," said Kannan. "Strong student involvement is something that we emphasize. It is very important to us that our students are an integral part of the project. Not only that, they are given the independence along with the guidance to take an aspect of the research and make it their own."
The team envisions numerous applications for their technology in addition to disaster response, including use in construction, agriculture, warehouse management and mining.
"We want to reach a point where humans and robots can act in complete cooperation with each other and handle complicated tasks in varied situations," Kannan said. "If we really want robots in our lives, then we need to figure out a way that we can work seamlessly together."
Related Links: Human-Robots Teams Homepage | Robotics Institute
---