Researchers Solve Cold Case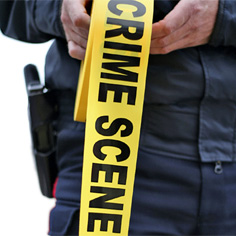 Nineteen years ago, a young woman disappeared. With no evidence, the man suspected of her murder walked free. Thanks to technology developed by a team at Carnegie Mellon University's Silicon Valley campus, he is finally behind bars.
When Dawn Sanchez vanished in 1991, witness reports of violence pointed to her boyfriend, Bernardo Bass, but police had no gun, no car and no body. Years later, police got a tip that Bass dismantled his car and buried it in an abandoned lot littered with metal debris near San Francisco Bay.
But the District Attorney's office hit a roadblock. It was too costly to excavate the lot — and conventional metal detectors couldn't pinpoint the car's parts. For help, they turned to the Carnegie Mellon Innovations Lab (CMIL), in collaboration with the NASA Ames Research team and the U.S. Geological Survey (USGS).
CMIL and NASA had been conducting research on a project entitled Payload-Directed Flight (PDF), and testing the technology using MAX rovers they'd previously developed.
"The concept behind PDF," explained Carnegie Mellon researcher Ritchie Lee, "is to develop flight navigation and control algorithms smart enough to be able to integrate a wide variety of sensors — including non-traditional scientific sensors such as magnetometers and ground-penetrating radar — to enable efficient, autonomous mapping and navigation. We were ground testing the technology on the rovers as a stepping stone."
The rover is a robotics platform including onboard computer, communications, positioning and autopilot, among other features.
It's been featured on the History Channel's Modern Marvels, performing a demonstration combining 'sub-vocal' research. Using throat sensor data, the rover was able to follow inaudible commands, invaluable in chaotic emergency scenarios.
Lee says the DA's cold case request was definitely a surprise.
A team, including Lee and Carnegie Mellon researcher Yoo-Hsiu Yeh and NASA lead Corey Ippolito, who is also pursuing his Ph.D. at Carnegie Mellon Silicon Valley, deployed a Senseta Max 5.0A Rover at the site.
Where ordinary metal detectors would have been alerting continuously over useless debris, the PDF technology was able to generate magnetic maps in real-time. This enabled investigators to better visualize the area, hone in on hotspots and perform higher-resolution surveys of specific areas of interest.
Based on the team's data, the county was able to excavate and uncover parts of the suspect's car, leading to his recent conviction.
Satisfying though it was to help close the case, the researchers envision other useful applications for their work.
PDF technology aims to improve sensor interpretation and navigation problems primarily associated with unmanned flight, making the vehicles 'smarter.' This would provide invaluable help in monitoring critical occurrences, like wildfires, hurricanes and volcanic activity, as well as perform autonomous geophysical surveys.
"Back to old research!" joked Lee.
Related Links: Carnegie Mellon in Silicon Valley  |  Carnegie Mellon Innovations Lab  |  Senseta.com
---