Bringing Robotics to Area Teens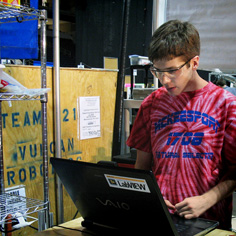 Ryan Cahoon describes most of his Tuesday nights as "organized chaos."It's when Cahoon, an undergrad majoring in computer science, volunteers with the McKeesport Area High School and Technology Center robotics team.
The team is involved in a competition through  FIRST® (For Inspiration and Recognition of Science and Technology), and Cahoon is an inspiration to the young students, says  Patricia DePra, the organization's regional director.
"High school students who might not have considered college have the opportunity to interact one-on-one with exceptional students like Ryan. This can, and does, change students' career paths," said DePra.
Supported by a strong network of sponsors and volunteers, FIRST® provides resources to teach elementary and high school students robotics design. Each program focuses on helping participants gain self-confidence, develop skills and discover potential career paths.
For Cahoon, a Seattle native who went to the international championship event twice as a high school student, it's a way to give back.
"That was really special. Having 20,000 people that are all in the one area, enthusiastic about the same thing you are, up in the stands cheering was amazing," Cahoon said. "You just have all this support around you, and you know that there's actually a part of this program that's beyond my little bubble. It's something that I hope the kids would be able to experience at McKeesport."
McKeesport qualified for the championships in its 2005 rookie season. Since then, they've been focused on a return trip. Cahoon said this year was a great experience for them as they stretched their talents with a more ambitious design. The robots can be as tall as 5 feet and weigh as much as 120 pounds.
Cathy Light, executive assistant to Carnegie Mellon President Jared L. Cohon, has two sons who are members of the McKeesport team. She said the skills the high school students learn go beyond engineering and programming.
"It's not just about building the robots, but about teamwork and leadership," Light said. "It really is running a small business and teaching leadership skills."
Light said team members are responsible for finding corporate sponsorships as well as holding fundraisers. They also learn how to organize group trips to regional competitions. As a parent, she said she was impressed with Cahoon's dedication to the program.
"I've been here for three years now, and I always hear about what great students Carnegie Mellon has, not just academically but in the community," Light said. "Ryan continues to blow me away with the thought he puts into all aspects."
Related Links: School of Computer Science  |  Robotics Institute
---