Celebrating INI's 20th Anniversary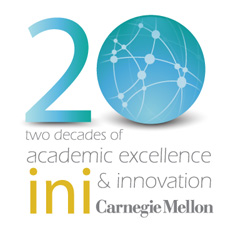 Marullus Williams credits Carnegie Mellon University's Information Networking Institute (INI) for helping him on his journey from a childhood in Washington, Ga., to his position today as a CEO in Washington, D.C. He'll be returning to Pittsburgh April 17 to celebrate the INI's 20th anniversary.
"The INI gave me exposure to the cutting edge of technology," explained Williams, who graduated in 1995 and is now owner of Limbic Systems, an IT-consulting company. "The word I use all the time when I think of Carnegie Mellon is innovation. It's a culture of innovation, of wanting to create something bigger and better, something new and different."
The INI, a department of the College of Engineering, is the nation's first research and education center dedicated to information networking. It builds on the interdisciplinary culture of Carnegie Mellon through collaboration with the renowned School of Computer Science, Tepper School of Business, Heinz College, the Department of Engineering and Public Policy and the Department of Electrical and Computer Engineering.
The anniversary festivities, occurring during Spring Carnival & Reunion weekend, will include two timely panel discussions, open to the public. As chair of the INI alumni committee, Williams will present at the alumni lunch.
Hired out of his undergrad by Southwestern Bell, Williams was one of only two top students chosen for sponsorship at the INI by the company. Southwestern Bell truly understood the importance of the convergence of data and voice. Upon his return to Bell, he was thrilled to join the brand new Internet company.
"Because of the experience I had at the INI, and being one of the few folks in the company that knew about the Internet and data, I had a chance to be part of that startup organization," said Williams. "You can imagine going from a strong, traditional Ma Bell company in St. Louis to San Francisco during the dot-com heyday. That was something that Carnegie Mellon and the INI prepared me for."
That experience stoked the entrepreneurial dreams he'd ignited at the INI.
"The INI just gave you such a thirst for being on the cutting edge of things," Williams said. "We were doing web pages back in '95 for class projects. There was no better place, being around smart, creative people who were inventing new things."
Williams stays connected with the university through the many events held in his area, and encourages others to lend support.
"I wanted to help the INI," he said. "I just felt that I was given such a huge opportunity, that I had to do something. I couldn't say no. It adds up, if everybody helps."
His advice to incoming students? "Don't be afraid to challenge yourself amongst the best out there. When you come to Carnegie Mellon, you're going to be surrounded by great brains, and that's what you need to get better yourself."
Related Links: Limbic Systems  |  INI's 20th Anniversary  |  INI Alumni
---