Students Host TEDx Event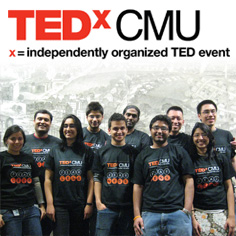 It began as a local conference in Long Beach, Calif., bringing together the best minds in technology, education and design (TED). It's now a global community of fascinating doers and thinkers, exchanging ideas with the hope of making us a better future.
Carnegie Mellon students hosted their first full-day TEDx event — the "x" meaning it's independently organized — on Sunday, April 4.
"As inspirational as it is to watch TEDtalks online, being physically present in the conference brings you to an entire new level of immersion," said Yongho Shin, a junior business administration major and co-curator of the event. "Students get to be part of the TED experience, and speakers get a platform to spread their ideas."
Shin says the goal of their inaugural, 'Fearless'-themed event was not to simply share great ideas, but rather to motivate people to action. Sachit Gupta, a senior information systems major who co-curated the event with Shin, said they were not aiming for people to watch the speakers and merely say, 'What a great speech.'
"We want people to come back a year later and say 'Carnegie Mellon's TEDx event inspired me to start something," Gupta said.
The Carnegie Mellon TEDx was modeled after the annual TED conferences, which challenge the world's thought-leaders to speak for 18 minutes on the same theme. Approximately 450 individuals were selected through an application process and invited to participate in the event. The talks were streamed live at http://tedxcmu.com/watch and are archived on TEDx's YouTube channel.
    
One speaker, cartoonist and multi-disciplinary artist Raghava KK, was no stranger to TED. In February 2010, he spoke at the TED Conference in Long Beach, along with director James Cameron, musician Sheryl Crow, playwright Eve Ensler and Microsoft founder Bill Gates. CNN featured Raghava in its "TED Talk Tuesdays" coverage and named the artist to its list of "Ten fascinating people you've never heard of." He presently lives and works in Bangalore, India, and Brooklyn, N.Y.
    
Also featured at the Carnegie Mellon TEDx event were:
Robert F. Culbertson III: a Carnegie Mellon alumnus, adjunct faculty member at Carnegie Mellon's Tepper School of Business and entrepreneur. He is the founder and CEO of two Pittsburgh-based companies, VentureBeginnings Inc. and GetAbby.
Jonathan Fields: a former private equity attorney turned entrepreneur, author and blogger. He is the author of "Career Renegade: How to Make a Great Living Doing What You Love."
Chris Guillebeau: a blogger and world traveler who created "The Art of Nonconformity" project to chronicle his writing about how to change the world by achieving significant, personal goals while helping others at the same time.
Mk Haley: After 16 years with Walt Disney Imagineering in California, Haley recently joined the faculty at Carnegie Mellon's Entertainment Technology Center and Disney R&D Lab.
Chase Jarvis: a photographer, director and social artist, Jarvis has received international recognition for his work with brands like Nike, Pepsi, Volvo, Reebok, Apple and Red Bull. His recent personal work has gained the attention of curators, art critics, mainstream audiences and celebrities.
Nathan Martin: a Carnegie Mellon alumnus, Martin is the founder and CEO of Pittsburgh-based Deeplocal, which helps companies rapidly develop and implement new ideas and technology.
Stacey Monk: a Carnegie Mellon alumna, Monk founded Epic Change, a nonprofit recognized nationally for creating TweetsGiving, one of the first efforts to harness the power of Twitter to do good.
The event featured performances by Carnegie Mellon's Dancer's Symposium Company and first-year design major Jackson Chu, who played a Chinese instrument called the "erhu."
In addition to Shin and Gupta, TEDxCMU team members include Tejasvi Ashok, Shivaas Gulati, Shivranjani Gupta, Krish Ajmera, Varun Srinivasan, Nipun Gupta, Brian Yee and Juliana Diaz.
Related Links: TEDxCMU.com  |  TED.com
---