Inspire Innovation in DC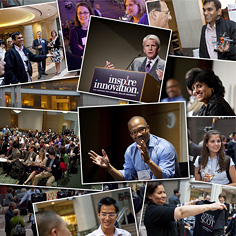 More than 400 alumni and friends gathered in Washington, D.C., recently to learn more about the game-changing impact today's innovations are having on business, technology and society.
The event — planned as part of Carnegie Mellon's Inspire Innovation campaign — included a reception and panel discussion that featured Carnegie Mellon faculty and alumni who are leading the way. Among the interesting questions posed to panelists by moderator and Carnegie Mellon University Trustee Ray Lane: Do you teach innovation or is it born?
"I think it's part of both. But nobody does it better than Carnegie Mellon when it comes to really developing an engineer or computer scientist who is going to hit the ground running. We hear it time and time again from just about every employer who comes to Carnegie Mellon," said Pradeep Khosla, dean of CMU's College of Engineering. "We don't try to teach innovation as a topical area. We do try to encourage inquisitiveness, questioning the basics, open-ended problem solving, and doing this not through one course or two courses, but through what we call innovation across the curriculum, where all of these properties in one way or another are embedded in every course."
He added, "So you will find that by the time you are through our curriculum, you have exercised so many facets of your mental faculties and of your thinking process, you are a more complete person, and what comes out at the other end is a person who thinks holistically."
Panelists included:
Phil Bronner (SCS'92), General Partner, Novak Biddle Venture Partners. As a top IT venture capitalist, Bronner is focused on identifying and investing in the biggest, most innovative ideas — those that are poised to impact the very fabric of our lives.
Eric Giler (TPR'77), President and CEO, WiTricity Corporation. With Giler leading the way, safe and efficient wireless power could soon enable the next generation of rechargeable cars, laptops, televisions and much more.
Pradeep K. Khosla (CIT'84, '86), Dean, College of Engineering, Philip and Marsha Dowd University Professor, Carnegie Institute of Technology, Carnegie Mellon University. A proven innovation leader, Khosla has been instrumental to the university's renown for breakthrough thinking and collaborative education and research.
Priya Narasimhan, Associate Professor, Electrical and Computer Engineering Director, CyLab Mobility Research Center, Carnegie Institute of Technology, Carnegie Mellon University.  Narasimhan significantly raised the bar for the role that mobile devices can play in people's lives. From helping the blind navigate their surroundings to enhancing live sporting events, Narasimhan's innovations are everywhere.  
Carnegie Mellon's Inspire Innovation campaign is aimed toward growing and sustaining a vibrant university community extending beyond the campus to include alumni, parents and friends, as well as students, faculty and staff. To learn more, visit the
Inspire Innovation
website.
Related Links: Watch Video of the Panel Discussion  |  Eric Giler Unplugged  |  Smart Sports  |  The Little Brag Book
---