Alum Leads Efforts in India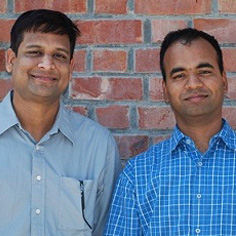 As the Internet plays an increasingly central role in our lives, so does the threat of cyber crime. Innocent people can become victims with the mere click of a mouse. A determined Ponnurangam "PK" Kumaraguru (CS'07, '09) aims to do something about it.

Kumaraguru, who received a master's degree and Ph.D. in computer science at Carnegie Mellon, hopes to detect threats of cyber hate crime from user-generated web content, like personal blogs, review websites, message boards, online forums and tweets. He and Ashish Sureka, a colleague at Indraprastha Institute of Information Technology in Delhi (IIIT-D), plan to develop algorithms capable of analyzing and detecting malicious content from this public data.

Kumaraguru recently received a sizeable, three-year research grant from India's Department of Information Technology, Government of India (GoI) to do just that. The $180,000 grant was a welcome surprise for Kumaraguru, a new faculty member at IIIT-D.
"An example of the types of things we'd hope to detect would be web use by terrorist organizations using the Internet to recruit members and conduct suspicious activities," said Kumaraguru. He would eventually like to broaden his efforts to include other types of cyber crime, which could include identity theft, harassment and predatory intent.

After leaving Carnegie Mellon, Kumaraguru returned to India where he knew he could make a difference, especially in the rapidly changing educational system.

"There is a huge need for research in India in the areas that I am interested in, to make an impact in decision making at the appropriate levels," he said. "Now I am part of 'making the change,' of shaping the culture of students at IIIT-D."

When he isn't crime fighting, Kumaraguru works to make a difference as an educator and citizen, and enjoys sharing the Carnegie Mellon experience with his students and others in India. He looks back at his time at Carnegie Mellon grateful for the encouragement to test his potential and to conduct research with the goal of making a real-world impact.

"I could not have expected anything more. Going to Carnegie Mellon was a life-changing and everlasting experience."
Related Links: Special Edition: Cybersecurity  |  School of Computer Science  |  Kumaraguru's Website  |  CyLab  |  INI
---