Technology of the Future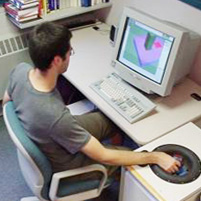 Imagine a soldier undergoing surgery in a warzone, as doctors operate from hospitals overseas. Or consider engineers repairing a damaged oil well from the safety of land.
Hanns Tappeiner believes scenarios like these could be within the foreseeable future. The Ph.D. candidate is working with Professor Ralph Hollis of Carnegie Mellon University's Robotics Institute (RI) to develop applications for Hollis's revolutionary 'maglev haptic interface.'
While haptic, or tactile feedback, technology has been around for years, Hollis developed a unique device that utilizes magnetic levitation to achieve a vastly improved user experience. It was a recent recipient of R&D Magazine's 2010 R&D 100 Award.
The device resembles a large covered bowl with a handle jutting from the open middle section. Electric currents flowing through hidden wire coils interact with magnets, allowing the handle to 'float.' Manipulating virtual objects with the handle can be virtually 'felt' as the coils transmit highly realistic force feedback to the user.
For example, using the handle to move a computer screen cursor across a simulated corrugated surface feels much the same as if you had run your pencil across the real thing.
The uniquely realistic haptic experience opens up a vast array of application possibilities, from dental training to remote mine clearing.
"If you need fine motor skills," Tappeiner explained, "it turns out you need force feedback."
Tappeiner came to the United States and Carnegie Mellon to study mobile robotics at the RI.
"There is no other place like the RI," he said. "The sheer number of research opportunities here is significantly larger than anywhere else. In other universities, there are always single projects, but at CMU, there is everything."
He quickly became intrigued by Hollis and his work, and devoted his Ph.D. research to developing applications for the device. Working with Hollis, psychology professor Roberta Klatzky, and a local robotics company, Tappeiner has already demonstrated successful testing of a prototype system.
"I particularly enjoy working with Ralph because he is very hands-on," said Tappeiner. "He's here every day and we meet or talk."
Undergraduates are also able to contribute to the state-of-the-art research.
"We've had undergraduate students here who have done really great things," he noted. "There really is no place like this."
Related Links: Robotics Institute | About Hollis | ButterflyHaptics.com
---