Internet Safety Awareness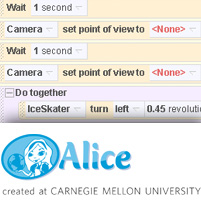 The Federal Bureau of Investigation and Carnegie Mellon University have announced a national competition in which students will share their knowledge about avoiding dangers associated with Internet use by creating computer animations.
The Alice Project was begun by the late Randy Pausch, a Carnegie Mellon alumnus and professor of computer science who gained international fame three years ago when he delivered a speech that became an Internet sensation and the basis of the best-selling book, The Last Lecture.
Alice is a free teaching tool that allows novices to use a simple drag-and-drop interface to create 3D computer animations.
The FBI, in partnership with Carnegie Mellon University's School of Computer Science, is expanding their ongoing Safe Online Surfing program (SOS) to include a national competition in which middle and high school students will create 45-second animations using Alice.
The need to educate young people about hazards associated with Internet use has never been greater. Predators solicit one in seven children online, according to a recent study. More than half are asked to send photographs of themselves.
The Internet is a powerful resource for our youth, but it also presents opportunities for those who would attempt to do them harm," said Gordon M. Snow, assistant director of the FBI Cyber Division. "The Safe Online Surfing program is designed to teach young people what they need to know to avoid falling victim to individuals who want to take advantage of their youth and innocence. Through this project, we hope to keep a generation of children safe online and tap into their creativity to promote their own protection."
"I'm so pleased with the success that the FBI-SOS program has experienced over the last five years," said Daryl Hulce, SOS Program administrator at Nova Southeastern University. "It started out as just an idea but has grown into a fun and engaging program that has provided children with the information necessary to confidently make safer decisions online.  By partnering with Carnegie Mellon University's School of Computer Science, we will have the ability to reach more children and families with our message."
"We are honored to collaborate with the FBI on the SOS project," said Wanda Dunn, associate teaching professor at Carnegie Mellon and director of the Alice Project. "The Internet offers great resources for learning and communication and we want to help children learn to use these resources safely."
She explained, "In this collaboration, teachers and students will work together to learn safe surfing techniques. By using our Alice software to create 3-D animations, students can then use their imaginations and creativity to spread this message even further and perhaps even more effectively."
Carnegie Mellon is a leading center for research on cybersecurity and Internet privacy and has developed innovative programs for educating young people about online safety.
The university's Information Networking Institute operates educational outreach programs such as MySecureCyberspace, a portal that helps the public understand the dangers of web surfing and offers an encyclopedia of terms, key articles and tools to combat cyberbullying, identity theft and online predators.
The outreach also includes a cyber game designed for fourth through sixth graders that teaches Internet safety and computer security.
Related Links: MySecureCyberspace.com | CMT Special Edition: Cybersecurity | School of Computer Science
---