Counting Robots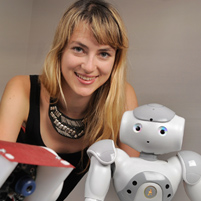 Heather Knight has a thing for robots. 
Upon arriving at Carnegie Mellon University in August, she ventured out to meet as many as possible — by conducting the first robot census.
"I think we were all surprised to learn how many robots there are here," said Knight.  "There are 599 research staff, visiting scientists, professors and students at CMU's Robotics Institute. And there are 549 robots currently counted on Pittsburgh's campus alone. We're pretty darn close to a one-to-one ratio."
Expanding the census to other campuses presents a challenge, but it's one Knight is willing to take on with the help of others.
"We are actively looking for volunteers at other campuses and events to head up other local censuses," Knight said.
Enthusiasts can submit their 'bots worldwide through www.robotcensus.org and keep up with the census on Twitter.
Knight says robots can teach us a lot about being human.
As part of her research in human-robot interaction, she has created one of the world's first robot theater companies. Called 'Marilyn Monrobot,' the company puts robotic and human performers together on stage.
She is particularly interested how autonomous robots gauge and respond to human  behaviors through live theatrical performance.
"Intersecting two fields is a great way to inspire new thoughts and innovation," she said. "I can't wait to learn what performers can teach robots about engaging people in everyday human settings."
She continued, "Related to that, the field of robotics might offer new tools for the entertainment industry allowing for new modes for expression."
Through her research, she aims to develop technologies and techniques that could be beneficial to society on a much wider scale.
"We can use robotic innovation to empower individuals and improve our relationship with the natural world," she said.
Meanwhile, Knight will present at TEDWomen with her own robot on Dec. 8 in Washington, D.C.
She is also in the middle of a National Science Foundation project that involves integrating autonomous robots into CMU's campus life — whether as tour-guides, mail-delivering agents, or as the life of the party for on-campus receptions.
"We're not there yet, but CMU is certainly blazing the path," she said.
A little further down on her to-do list: "To add another freshly minted 'Doctor of Robotics' to the world," she said. "Just give me a few years."
You can count on it.

Related Links: Follow Robot Census on Twitter | RobotCensus.org | School of Computer Science
---