The Gift of Life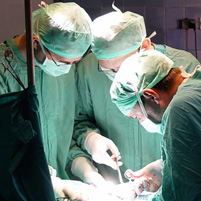 A man in St. Louis and a woman in New Hampshire are getting the gift of life this holiday season.
They've received the first kidney transplants made possible through a new national program of the Organ Procurement and Transplantation Network (OPTN).
The program uses a Carnegie Mellon University computer algorithm to match transplant candidates with living donors.
Both recipients — Ken Crowder of St. Louis, Mo., and Kathy Niedzwiecki of Pelham, N.H. — had loved ones who were willing to donate a kidney.  But they were medically incompatible with them.
So, through a paired donation, Mr. Crowder's fiancée, Rebecca Burkes, donated her kidney to Ms. Niedzwiecki. And Ms. Niedzwiecki's sister-in-law, Cathy Richard, donated her kidney to Mr. Crowder.
The donor recovery and transplant operations took place Dec. 6 at Barnes-Jewish Hospital in St. Louis and Dartmouth-Hitchcock Medical Center in Lebanon, N.H.
The matches were identified during a computer run Oct. 27 that considered 43 transplant candidates and 45 donors.
It was the first match run of the OPTN pilot program, which is expected to increase the number of kidney paired-donation (KPD) transplants by creating a national pool of mismatched donor-recipient pairs.
The United Network for Organ Sharing (UNOS) operates the OPTN under federal contract.
"It is gratifying to know that this pilot program has helped make these transplants possible," said Tuomas Sandholm, a professor of computer science at CMU, who has led the development of computer algorithms for optimizing match runs.
"As the size of the pool increases, we are confident that we can significantly boost the number of patients who are able to receive kidney transplants. The more people in the pool, the higher the portion of them we can save," said Sandholm.
Charles Alexander, OPTN/UNOS president, said the CMU algorithm and Sandholm's expert advice were important parts of the pilot program.
"These contributions have helped us develop the program more quickly and at significantly lower cost than we could have achieved otherwise, so we can focus on saving and enhancing lives through kidney paired-donation," he explained.
Related Links: Read More | School of Computer Science
---