Fantasy Hockey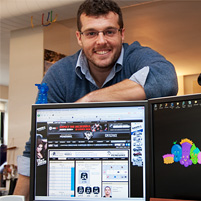 As Pittsburgh Penguin fans gear up for the regular season opener today, they're itching to begin the third season of Extra Attacker, a fantasy hockey game created by Carnegie Mellon University spinoff Electric Owl Studios.
The game allows Pens fans to create their ideal lineups and rack up points to win weekly prizes, based on actual game statistics and player weightings — a particularly challenging concept to pull off given the constantly changing dynamics of a hockey team. More than 20,000 fans signed on during last year's season.
Developing Extra Attacker was a dream come true for the hockey-crazed Carnegie Mellon alums at Electric Owl. The recent graduates from the Entertainment Technology Center were approached by the Penguins to create a simple, team-specific fantasy game that would help all their fans get to know the players.
It was an exciting departure for the new company, which was formed around the 'Kid's Interactive Creation Kiosk,' a product the founders developed for Children's Hospital of Pittsburgh as a first year master's project.
The bright-yellow kiosks alleviate children's waiting-room anxiety with fun, interactive touch-screen games, like drawings that animate when colored. There are more than 70 kiosks in use in 27 states, and units may soon be sent to Australia and Portugal.
"I just really believe in what we're doing," said CEO Patrick Mittereder (MET'07). "When you go into the hospitals, you can see the difference that we're making. The kids light up when they're playing. We're doing something meaningful."
Mittereder was assisting pop artist and Carnegie Mellon alum Burton Morris (CFA'86) when he discovered the ETC. He knew it could help him pursue his goal of creating games and animations for children.
"As an artist, I knew very little about using the computer, nothing compared to what I learned at the ETC," he said. "There's so much there for you. They have everything you can think of if you want to learn it."
Both Mittereder and Brad Patton (MET'07), CTO of Electric Owl, are thrilled to be building their young company in Pittsburgh.
"It's such a great place," said Mittereder. "We talked about it when we set up shop here — the potential of the city and how it's growing. There's so much going on here."
Four other companies with CMU connections will be supporting the Pens and their fans this year with innovations that include YinzCam's smartphone-ready camera angles and replays, Content Vision's automated video analysis and retrieval, Wrecking Crew Media's audio/video promotional content, and Civic Science's web-based polling technology.

Related Links: ETC | Electric Owl Studios | Extra Attacker
---