Recent Grad Funds Scholarship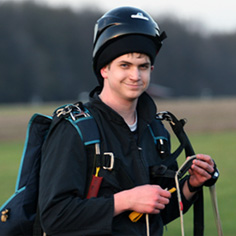 Michael Stevens graduated from Carnegie Mellon's School of Computer Science just two years ago, but he's already funded a Legacy Scholarship for a future student. What motivates someone so young to make such a difference?
"It's just a question of setting priorities, wanting to make an impact and understanding the importance of supporting the next generation of students," explained Stevens, who is now a member of both the Andrew Carnegie Society and G.O.L.D. Society.
Stevens enrolled in the university's pre-college program while still in high school, which he considered a great opportunity. He said it was a rewarding experience that led to his full-time enrollment at Carnegie Mellon with advanced standing.
While engaged in several research groups during his undergraduate years, Stevens observed how difficult it was to gain the finances necessary to fund graduate students and support the faculty leading important research.
A recipient of both a Carnegie Mellon grant and a sponsored scholarship, Stevens appreciated the generosity of donors to the university. Wanting to do his part, Stevens began working as a student Telefund Caller. He also joined the Senior Gift Committee, which keeps alumni and students in contact with the university while accomplishing important annual fundraising goals for the university.
While it may sound like a bit of a juggling act, Stevens said, "It really wasn't all that hard, if you just budgeted your time wisely."
He added, "You don't need to give a million dollars to make a difference. You just need to make an effort by getting involved — personally or financially — and by staying connected to your university."
Photo: Michael Stevens, a quality assurance automation engineer at NetApp and an avid sky diver, in his sky diving gear.
Related Links: School of Computer Science  |  Andrew Carnegie Society  |  G.O.L.D. Society
---