Narasimhan's Team Opens Doors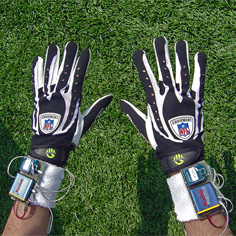 Up on the screen, a virtual football flies through the air, landing inches from the goal. This isn't Madden '09 — it's an actual football being tracked to within a few feet of its path.
Carnegie Mellon Professor Priya Narasimhan and her team of 15 sports-crazy students have developed what they call a 'smart football.' By installing a mini GPS unit and accelerometer inside, they can plot the football's progress and landing, even under a pile of players.
They've also developed a 'smart glove' embedded with 15 sensors in the fingers and palm, which can help determine if a receiver has control of the ball during critical plays.
In addition to aiding referees, such real-time feedback could help in training athletes and scouting new players.
If that's not enough, Priya's dedicated team is already expanding into 'smart shoes,' able to analyze a kicker's position on the ball, and uniforms able to analyze blocks. How?
"We have 15 great students," explained Narasimhan, professor in the Department of Electrical and Computer Engineering. "They're really, really excited about what they do, so it's easy."
Michael Chuang, a Ph.D. candidate in ECE, works on the visual software or 'eye candy' of the systems. The smart technology is step one in the avid sports fan's thesis work, which is automated sports broadcasting.
"Sports are my life," said Chuang. "It's nice to combine my hobby with my academics. I'm just sad I didn't work with Professor Narasimhan even earlier."
Narasimhan, raised in India and Africa, thought little of sports until she came to Pittsburgh in 2001.
"I just got the bug here," she explained. "I started watching the Steelers as soon as I came to Carnegie Mellon and I was addicted from the first game."
Even her 3-year-old son's gotten into the act.
"I'm getting him to watch," she joked. "He can definitely do a challenge signal!"
Narasimhan and her researchers would love to work with a professional football team that could provide invaluable feedback.
They're already working with the Penguins and have a project launching at next month's game. Narasimhan's team has installed wireless technology in Mellon Arena that will allow fans to see the game from pre-chosen camera angles on their cell phone screens.
Chuang added, "In my opinion, this type of technology will eventually be part of the game. It's just a question of when."
Related Links: Project Videos on YouTube  |  Football Engineering  |  Priya's Bio  |  ECE  |  School of Music's Steelers Opera  |  Randy Pausch's Legacy Reaches NFL
---