Randy's Passion, Energy Recognized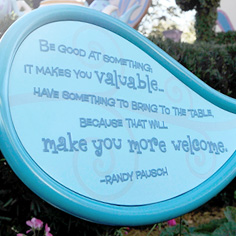 The Walt Disney Company has announced the creation of the Disney Memorial Pausch Fellowship at Carnegie Mellon University. The award recognizes the passion and energy Professor Randy Pausch brought to his work at both Carnegie Mellon and Walt Disney Imagineering.
The Disney Memorial Pausch Fellowship will support two graduate students, one in the School of Computer Science and one in the College of Fine Arts, reflecting Pausch's enthusiasm for the interplay of arts and technology.
Also an alumnus, Pausch is best known for his life-affirming "Last Lecture," which he delivered to his students and colleagues a few weeks after learning he had just months to live. Intended as a roadmap for his three young children, the lecture included his insights on finding the good in other people, working hard to overcome obstacles and living generously.
"Randy Pausch lived his life inspiring his students, colleagues and co-workers. Now, the vitality and energy he brought to his classroom lives on and serves as an inspiration to millions of people he never had the chance to meet," said Disney President and CEO Bob Iger. "We are proud to honor Randy's passion by supporting the innovators and dreamers of tomorrow with these fellowships."
Pausch fulfilled his lifelong dream of becoming a Walt Disney Imagineer in 1995, when he joined the Imagineering Virtual Reality Studio during a sabbatical from his university teaching position. Imagineering, with its collaborative teams of artists, engineers, sculptors and software developers, proved the perfect environment for him. After his sabbatical was complete, Pausch continued as a consultant to Disney, and began nurturing a relationship between Carnegie Mellon and Disney through Imagineering's internship program.
Randy's fascination with this type of synergy at Disney led to the development of Carnegie Mellon's Entertainment Technology Center (ETC) — a program designed to foster collaboration between technologists and fine artists on projects intended to entertain, inform, inspire or otherwise affect audiences.
The ETC's Master of Entertainment Technology degree is jointly conferred by Carnegie Mellon's College of Fine Arts and School of Computer Science.
"Arts and technology are two pillars of strength at Carnegie Mellon," said Jared L. Cohon, president of the university. "Randy Pausch was tireless in his efforts to bridge the gap between them by creating innovative classes and graduate programs, as well as through his own research. Disney's generosity in sponsoring graduate fellowships in computer science and fine arts further establishes Randy's educational legacy by benefiting talented students who share his passion for interdisciplinary collaboration."
To mark Pausch's achievements, a medallion was placed in the Magic Kingdom Theme Park at Walt Disney World and inscribed with words from his lecture:
"Be good at something; it makes you valuable. Have something to bring to the table, because that will make you more welcome."
The unique artistic element is located near the Mad Tea Party ("tea cups") ride, which was celebrated in a photo that Pausch displayed on his desk, showing his niece and nephew enthusiastically enjoying the attraction. The relationship between Disney and Carnegie Mellon that Pausch nurtured continues to evolve.
One initiative engages top technology universities to conduct research and development for many of Disney's divisions. And through a partnership with Disney Educational Productions, Carnegie Mellon has made Randy's lecture available as a teaching tool in a special interactive classroom edition DVD.
Related Links: More Info  |  Alice.org  |  ETC  |  Randy's Plaque at Walt Disney World
---