Gloriana St. Clair Honored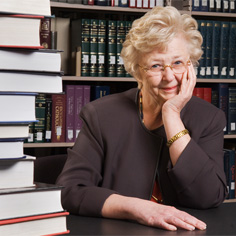 Gloriana St. Clair has long been an advocate of a digital future for librarianship. As dean of university libraries at Carnegie Mellon, she has helped to lead the Million Book Project, which has brought 1.5 million books to the web for free online access. The project includes libraries and computer scientists in the United States, India and China.
"What inspires me about the digital future is that it brings more resources to more people in more places around the world. Everyone gains when quality academic content is brought to the web," said St. Clair. (Watch video of St. Clair discussing the digital future of librarianship.)
Most recently, St. Clair is helping to lead Carnegie Mellon's Research Showcase initiative. Searchable through Google, the Research Showcase is a new opportunity for faculty to archive their work, making it available to others around the world.
This week, St. Clair is being honored as the 2009 Association of College Research Libraries (ACRL) Academic/Research Librarian of the Year. It's the top award in the field.
"Winning it tells the world that Carnegie Mellon is serious about making the results of its research available to scholars and students everywhere," she said. "I am greatly humbled by receiving the award which recognizes my many accomplishments throughout my career."
St. Clair credits the ACRL for playing a formative role in her success by selecting her to be the editor of its flagship journal College & Research Libraries. Subsequent to that she managed two other journals in librarianship and finally helped found portal: Libraries and the Academy where she began to work on helping librarians get published.
"All of that work with research and publication helped provide the field with the strong research base needed to transition into a digital future," St. Clair said.
The award, sponsored by YBP Library Services, recognizes an outstanding member of the library profession who has made a significant national or international contribution to academic/research librarianship and library development. St. Clair will receive a $5,000 award March 12 at the opening keynote session of the ACRL 14th National Conference in Seattle.
Related Links: Watch Video  |  Million Book Project  |  ACRL Awards
---