A Whole New World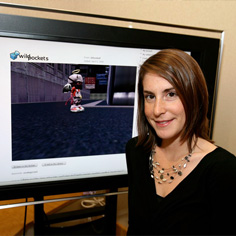 It was 3 a.m. when Randy Pausch walked into the classroom to check on Shanna Tellerman and her "Building Virtual Worlds" classmates. The group had decided to pull an all-nighter to meet a project deadline. They were exhausted. And then Pausch delivered the news: they hadn't nailed it yet.
"I learned a valuable lesson that night, which I have not forgotten," said Tellerman (A'03, MET'05). "I learned how to dig deep when the feedback is not positive and the circumstances are tough."
After graduation, Tellerman founded Sim Ops Studios, Inc., the developers behind an innovative new technology called Wild Pockets, which brings 3D animation creation to web browsers. While Adobe Flash has enabled the web experience to become highly interactive and animated, Sim Ops Studios sees 3D as the next step for the web.
"As our eyes were opened to this tremendous opportunity, we knew that we were well positioned to make it happen," she said.
Wild Pockets works like this: users can sign up on the website and instantly begin developing interactive 3D content for distribution across the web. To view showcase content or to sign up for a developer account, you can visit www.wildpockets.com.
Content developed in Wild Pockets can be embedded and distributed instantly on any website anywhere online, similar to a YouTube video. Soon, a built-in transaction system and marketplace will enable developers to monetize the content they have developed.
Tellerman says she would never have entered the entertainment or possibly even the computer graphics industry had she not taken the "Building Virtual Worlds" course as an undergrad at Carnegie Mellon.
"This course transformed my life, introduced me to some of my very best friends, and convinced me that there was no other industry I would rather be a part of," she explained. "I loved the interdisciplinary teams, the fast-paced creative process, and the super innovative results that were designed in such short cycles."
She said the course also prepared her for the harsh realities of being an entrepreneur, which is one of the most valuable lessons she learned.
Tellerman hopes to see Sim Ops Studios break open the world of 3D development and expand it beyond purely the entertainment value it provides in games.
She said, "My vision is that people will use this technology for things I have never dreamed of in the realm of education, training, visualization, architecture, art, design and much more."
Related Links: Wild Pockets.com  |  A Real Crowd-Pleaser  |  More on Randy Pausch  |  Entertainment Technology Center
---