Robotic Leg Takes Flight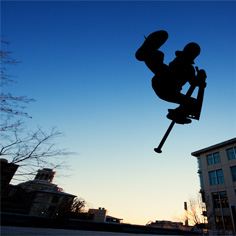 Once merely a springy toy for kids, the pogo stick has evolved into high-performance equipment for extreme athletes. Some are capable of launching people more than eight feet into the air. Perhaps the most extreme of these new sticks is the BowGo, developed at Carnegie Mellon University's Robotics Institute.
When the top pogo athletes in the world gather for a four-day event in Pittsburgh this month — aptly named Pogopalooza — several will be aboard newly built versions of BowGo.
Ultimately, the technology being advanced through BowGo could be used to build running- and hopping-robots that cover long distances and rough terrain, accomplishing sometimes life-saving tasks.
The unique BowGo sticks get their bounce from a fiberglass bow of high-tensile strength.
"It's the smoothest ride of any of the extreme pogo sticks," said Nick Ryan, the organizer of Pogopalooza and a junior majoring in both English and public policy at Carnegie Mellon. "Athletes riding BowGos are favored to win the high-jump event, possibly clearing nine or nine-and-a-half feet."
Ben Brown, a Robotics Institute project scientist who invented BowGo, said his pogo stick is particularly energetic. Its fiber-reinforced composite bow can store as much as five times the elastic energy per unit of mass as a steel-coil spring. The bending bow also precludes the friction that results when coil springs buckle sideways.
Its efficiency is further enhanced by replacing the usual plastic guide bushings around the plunger with rollers.
"This feels very different from other pogo sticks, including the extreme sticks now on the market that use elastic bands or air springs," Brown said. "It's very smooth and you can jump really high."
The BowGos now being delivered for the Pogopalooza competition have bows made with S-glass, a type of fiberglass with greater tensile strength than the E-glass used in earlier versions.
Meanwhile, the leg technology is being used in a climbing robot developed in the Manipulation Laboratory headed by Matt Mason, director of the Robotics Institute. Called Parkour, after the physical discipline associated with getting over obstacles, the device has two opposed bow legs and climbs between two adjacent walls by hopping between them.
Photo by Christopher Buehler (A'12)
Related Links: Watch Video  |  Listen to iTunes Podcast  |  Pogopalooza.com  |  Robotics Institute  |  Engineering & Public Policy
---