Student Seizes iPhone Opportunity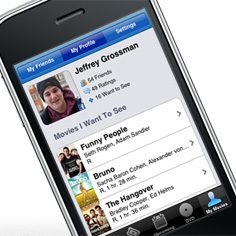 It was the summer before his first year at Carnegie Mellon and Jeffrey Grossman (CS'11) was spending much of his time honing his computer programming skills or catching the latest movie. With the launch of the iPhone, he spotted a perfect platform to combine both pastimes.
The next summer the App Store debuted, featuring Grossman's newly created "Movies" application — an easy way to get local movie locations, times and much more right on your iPhone or iPod Touch. It was one of only 500 apps accepted by Apple — and an instant hit.
"You can't decide it's too hard before you've even tried. You just have to try it," said Grossman, encouraging other students to try their hand at new opportunities.
For Grossman, taking a chance paid off almost immediately. Flixster, a new and growing movie-based social networking site, quickly contacted him and purchased the app. It was the first acquisition of its kind, an acquisition that other developers across the globe have sought to mirror.
It also led Grossman to a contract with Flixster, continuing to enhance the app with additional features like online ticket purchasing and links to nearby restaurants. The app has been downloaded more than 6 million times.
Grossman's computer skills came early in life; he began programming in middle school on a Palm Pilot his dad gave him.  By the time he entered high school, he'd already started a small software company. He went on to win a McKelvey Entrepreneurial Scholarship toward college and chose Carnegie Mellon for its preeminent School of Computer Science.
"Everyone is definitely very encouraging for anything that you want to do," he said, commenting on his school experience thus far.
Having just returned from a full-time gig at Flixster's San Francisco base this summer, Grossman is working on updating another app he developed in the early days of the App Store called "Currency."  Not surprisingly, it's the top currency converter with more than 1.6 million downloads so far.
Related Links: Movie  |  Currency  |  School of Computer Science
---