Alice Wins Duke's Choice Award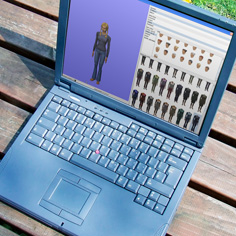 Carnegie Mellon's innovative Alice software system was recently awarded with Sun Microsystems Duke's Choice Award — recognizing the year's most influential Java technology-based applications around the world.
Alice is an innovative programming environment that teaches students to program as they create 3-D animations, stories and video games.
"The School of Computer Science, the Alice project, and of course the leader of the Alice project, Randy Pausch, have done a phenomenal job teaching kids programming," said Vice President and Sun Fellow James Gosling (CS'83), the inventor of the Java programming language.
Gosling presented the award to Carnegie Mellon's Randy Bryant, dean of the School of Computer Science, at the recent JavaOne conference.
"Randy Pausch had a vision of getting young people hooked on programming by having them tell stories and create games using a mouse and menus to write programs rather than by typing on a keyboard," said Bryant. "He deployed that with the program Alice 2, which is widely available and in fact is downloaded about 1,000 times a day from the servers at Carnegie Mellon."
Alice is used in about 15 percent of U.S. colleges and universities, as well as a growing number of secondary schools. Experts believe its revolutionary approach could reinvigorate computer science education in the United States, from the middle school level through college.
The latest version, Alice 3, will include a standard Java language interface so students can create programs either by using the drag-and-drop editor or by typing on a keyboard. Alice 3 will be released later this summer.
Last year, Sun announced it was teaming with Carnegie Mellon to support Alice's continued development. Over the next three years, Sun will work with the university to globalize Alice, providing tools to translate it into different languages and develop drag-and-drop artifacts unique to a variety of cultures. Sun will work with the Alice development team to bring the system to a worldwide audience of educators and students.
Related Links: Watch Award Presentation  |  Watch Video of Alice  |  Alice.org  |  Randy Pausch  |  School of Computer Science
---