New Location-Sharing App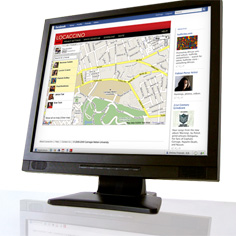 The problem with social networking applications that allow friends to track each other's locations via cell phone or laptop is that sometimes friends don't want to be tracked. A group of Carnegie Mellon researchers think they may have the solution in a new Facebook app they're rolling out called Locaccino.
Controlling who can know where you are at what times has been the Achilles' heel of every location-sharing service; the privacy issues are daunting and personal preferences can be surprisingly complex.
But Locaccino features a unique user interface that helps users set rules about who can see them at what times and in what places. They can also check to see who among their friends has been looking them up.
"People have come to recognize that there are consequences to sharing their location," said Norman Sadeh, a professor of computer science at Carnegie Mellon who led Locaccino's development. "That realization is one reason these location-aware applications have been slow to catch on."
All such applications, including Locaccino, allow users to temporarily make themselves "invisible" to their network of friends and all provide ways to control who can see them when. But according to Sadeh, "nothing out there now really works."
The problem is that user controls tend to be cumbersome and time-consuming and often are practical only for handling a small group of acquaintances, he explained. Only Locaccino provides the right kind of feedback — information that the group's research suggests can help people overcome fears about friend-finding applications.
"There is a personal adjustment process for every new technology," said Patrick Gage Kelley, a Ph.D. candidate in computation, organization and society who has coordinated the interface design for Locaccino. "The interface tries to help users through this process."
The Locaccino group also includes Carnegie Mellon's Lorrie Cranor, associate professor of computer science and engineering and public policy; Jason Hong, assistant professor of human-computer interaction; Paul Hankes Drielsma and Eran Toch, both post-doctoral fellows in the Institute for Software Research; and Jay Springfield, a research programmer.
In addition to Kelley, Ph.D. students on the team include Janice Tsai, Michael Benisch, Jialiu Lin and Ram Ravichandran.
Funding for Locaccino comes from the National Science Foundation's CyberTrust Initiative, CyLab, Nokia, Microsoft, Nortel, France Telecom, and the Information and Communications Technologies Institute.
Related Links: Listen to Podcast on iTunes U  |  Locaccino  |  School of Computer Science
---