To Visit University for Dedication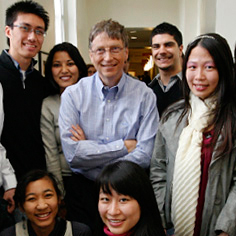 Bill Gates will be returning to Carnegie Mellon University in Pittsburgh on Sept. 22, 2009, to dedicate the Gates Center for Computer Science. While details of the visit have not been finalized, Gates will be on hand for the ceremony celebrating the university's long history in computer science excellence.
With a lead gift of $20 million, the Bill & Melinda Gates Foundation has made possible the Gates Center, one of two signature buildings for Carnegie Mellon's School of Computer Science. The buildings are scheduled to be occupied in August.
This marks Gates' third recent visit to a Carnegie Mellon campus. In February 2008, Gates visited Carnegie Mellon and delivered the lecture "Bill Gates Unplugged: On Software, Innovation, Entrepreneurship and Giving Back."
Gates also visited Carnegie Mellon University in Qatar on April 18, 2009, to give the keynote address at the Third International Conference on Information and Communications Technologies and Development (ICTD2009).
The Gates Center will be home to the school's undergraduate programs, featuring classrooms, collaborative work spaces, study rooms and student organization spaces, as well as faculty, graduate student and administrative offices — all designed to achieve at least a LEED Silver rating for sustainable buildings.
Photographed:
Bill Gates with Gates Millennium Scholars during his visit to Carnegie Mellon's Pittsburgh campus, Feb. 21, 2008.
Related Links: Watch Video  |  Bill Gates: Unplugged  |  Gates Visits Qatar  |  School of Computer Science
---