Congrats to the New Grads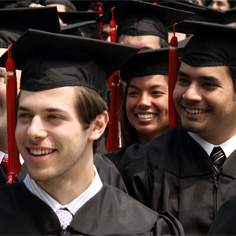 It's an emotional day. Bags are packed. Families have arrived. Friends have hugged and promised to stay in touch. This weekend, Carnegie Mellon will send its Class of 2009 out into the world.
The university's 112th commencement ceremony takes place at 11 a.m., Sunday, May 17, in Gesling Stadium. Eric Schmidt, chairman of the board and chief executive officer for Google Inc., will give the keynote address.
Schmidt will also be awarded an honorary doctorate in science and technology from Carnegie Mellon, sharing the commencement platform with four other honorary degree recipients:
Thomas Detre, M.D., Doctor of Humane Letters. Detre has served for 30 years at the University of Pittsburgh and was instrumental in the creation of the University of Pittsburgh Medical Center, a world-renowned medical center and research institution.

Keith Lockhart (MFA'83), Doctor of Fine Arts. As conductor of the Boston Pops, music director of the Utah Symphony, and artistic director and principal conductor of the summer institute and festival at the Brevard Music Center, Lockhart is a major force in the music world.

Phylicia Rashad, Doctor of Fine Arts. Rashad has earned many awards for her acting roles on stage, in films and on television. Perhaps best known for her television role as Claire Huxtable on "The Cosby Show," her Broadway credits include "A Raisin in the Sun" for which she earned a Tony Award for Best Actress in 2004.

Harold Shapiro, Doctor of Public Policy. A former president of Princeton University and the University of Michigan, Shapiro is currently a professor of economics and public affairs at Princeton, a trustee of the Alfred P. Sloan Foundation, chairman of the board at DeVry Inc., and a key member of many national public policy committees and boards. (Learn more about these distinguished honorees.)
Carnegie Mellon researchers behind the ground-breaking GigaPan — which allows people to take and share high resolution, panoramic pictures — will also be capturing a shot of graduation. (Watch this video about GigaPan.)
Additional commencement activities will be held throughout the weekend at the colleges, schools and other locations. Events include breakfasts, receptions and a "Zero-Year Reunion."Seating at the actual ceremony is on a first-come first-served basis. For those who are unable to attend this special event in person, the ceremony will be broadcast online.
Related Links: Live Webcast Info  |  About Commencement  |  Alumni Association
---