Middle East High Schools Competing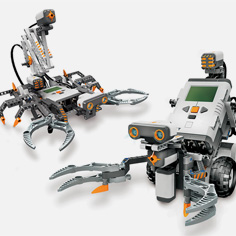 Students from 23 high schools in Qatar, Kuwait, Saudi Arabia and the United Arab Emirates are learning how to build robots during a two-day Botball workshop at Carnegie Mellon University in Qatar.
Botball is a U.S.-based organization that introduces robotics to high school students. At the intensive two-day workshop, the teams are given the necessary background and expertise to design and program their own LEGO® Mindstorms robot.
"This is my first year to participate in the Botball Robotics workshop. I learned how to program robots using C programming, and I also learned how to fix robots," said Hassan Basil, a student at Hamza Bin Abdul Moutalib School. "This is a very exciting experience, I hope we win first place in the competition in April."
For eight weeks, the students have worked with their teachers and mentors to build and program their own robots. These robots are now competing against each other in a non-destructive competition at Carnegie Mellon in Qatar. The robots must operate autonomously, meaning they move on their own without any remote control from the students. Teams also must demonstrate the work they've done in order to program their robot.
"A lot of students think robots and artificial intelligence are something that is very difficult and that they could never be part of," said Chuck Thorpe, dean of Carnegie Mellon in Qatar and former head of Carnegie Mellon's Robotics Institute. "Botball not only shows students that robotics is something they can do — and do well — it also shows them how to work as a team, how to plan a project, how to use their math skills and how to have fun while you learn."
This is the fifth year for Botball in Qatar and the first year that teams from Saudi Arabia have joined the competition. The addition of Saudi Arabia brings the number of participating schools to 26 from five different countries. Grand prize for the winning team of the April 25 competition will be travel to the United States in July to attend the Global Conference on Educational Robotics.
Al Jazeera Children's Channel is featuring more than 10 Botball episodes this year. It marks the third year Al Jazeera has partnered with Carnegie Mellon to cover the robotics event. Botball reports on Al Jazeera Children's Channel will air internationally in April and May.
Related Links: More Info  |  Botball.org  |  Robotics Institute  |  Carnegie Mellon in Qatar
---