Adobe Co-Founder Talks Success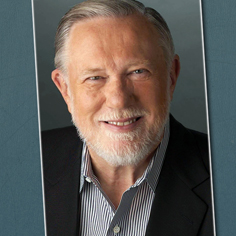 Mention the word success to Chuck Geschke (MCS'73) and he'll let you in on a little secret: he didn't get there alone.
An alumnus of Carnegie Mellon University, Geschke recalls a key decision he made while at Xerox in 1978 to hire computer scientist and software engineer John Warnock. Five years later, the two co-founded Adobe Systems and today their company remains a key player in an ever-changing industry.
"Always hire people who are smarter than you," Geschke said of the partnership, which has flourished over more than 30 years.
Geschke and Warnock were recently honored with the 2010 Marconi Society Prize for their role in moving the world of print communications into the digital age.
To get the company off the ground, Geschke says he and Warnock wore all the 'hats' themselves — entrepreneurs, corporate management, software developers, salesmen and marketers.
And while they mostly focused on growing the company by building a management team and negotiating business relationships with other corporations, they always stayed closely involved with the technology and the strategic direction of the company.
"Being passionate about what you do is also a critical factor in being successful," Geschke said. "Either be an inventor who focuses on new technologies that open new markets or work with someone who has these attributes."
And Geschke defines Adobe Systems as a company of inventors.
"We create new technology to service markets that often do not yet exist but are defined by the solutions we bring to market," he explained. "For example, PostScript transformed the centuries-old printing and publishing market. Photoshop came to market before digital cameras — and low-cost scanners and large storage devices — but helped to create the market of digital photography."
For their achievements, President Obama has awarded them the National Medal of Technology and Innovation — the highest honor for technological achievement bestowed upon America's leading innovators by the President of the United States.
"I find it an extremely humbling experience to receive this level of recognition and to follow in footsteps of two of my Carnegie Mellon University heroes, Herb Simon and Allen Newell," Geschke said. "The university's computer science department was — and is — a very special place."
Geschke noted that Allen Perlis, along with Newell and Simon, built an educational environment that not only promoted groundbreaking research, but also nurtured the concept of educational teamwork.
"Most of the research was conducted by teams of contributors, not isolated scientists," he pointed out. "I took that concept with me to my career at Xerox and as a founding principle of the working environment at Adobe."
Geschke tells undergraduates not to specialize too early, but to take basic science and as many liberal arts courses as you can.
"Learn to write and convincingly articulate your ideas. This ability will service you well no matter what field of endeavor you pursue," he said. And to students pursuing graduate degrees, he advises forging close relationships with your fellow graduate students.
"They will form the initial network of your peers as you go on to pursue your career," Geschke said. "Also, find a thesis adviser whom you admire and respect and who demonstrates an interest in you. I am forever grateful that Bill Wulf took me under his wing at Carnegie Mellon in 1968."
Related Links: About the Medal  |  Adobe Systems  |  Computer Science Department
---