Platzer Honored for Systems Research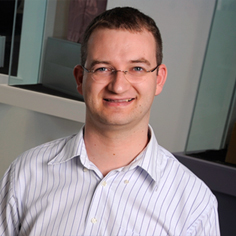 Even frequent travelers don't give much thought to the complex systems behind averting plane or train collisions. But Carnegie Mellon Assistant Professor Andre Platzer does — and many lives may be saved through his research.
Platzer has developed a new method for systematically identifying bugs in aircraft collision avoidance systems, high-speed train controls and other complex, computer-controlled devices — collectively known as cyber-physical systems.
His work secured him a spot in Popular Science magazine's Brilliant 10 in 2009.
"I am honored. In fact, this honor is important for the whole field of hybrid systems analysis," Platzer pointed out. "Everyone immediately sees the importance of making sure that complex physical systems work as intended. I hope that the Brilliant 10 news coverage encourages others to join this challenging research direction."
What inspires Platzer is the fact that research on hybrid systems analysis has numerous applications of enormous practical relevance for everyone.
"It is an excellent motivation in its own right," he said. "What I like even more is that finding answers to these practical questions leads my research to truly foundational questions about elementary operating principles of how systems evolve over time, and how their behavior can be understood from a logical perspective."
Platzer sees the immediate practical impact to be a better understanding of how train and flight control systems need to be operated to ensure safety.
"And we really don't want either of these to crash, but the future impact could be even more significant," he said. "Today, our ability to design complex systems exceeds our ability to analyze them by several orders of magnitude. Yet there will be countless applications of advanced systems control that help humans — and make the world a better place — if only we can find a way to design these systems safely and analyze their correctness."
He is convinced that the theory of hybrid systems analysis is a crucial cornerstone in making this vision a reality.
In joint work with University Professor of Computer Science Edmund Clarke, Platzer has already detected a flaw in aircraft collision avoidance maneuvers — since corrected — that could have caused mid-air collisions.
He has also verified correct functioning of the cooperation protocol for the European Train Control System. Ultimately, the method could be used on other cyber-physical systems, such as robotic surgery devices and nano-level manufacturing equipment.
Related Links: Read More  |  About Andre Platzer  |  School of Computer Science
---