Home is Where the Heart Is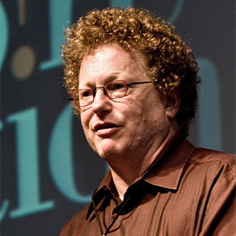 The words "Carnegie Mellon" and "family" are practically interchangeable for computer science alum Ed Frank (S'85). Ed met his wife, artist Sarah Ratchye (A'83), at Carnegie Mellon. Their daughter, Whitton (A'06), recently graduated with bachelor's degree in humanities and arts.
"There's naturally a blend of art and technology in our home," he said. "The university has this too. What makes Carnegie Mellon so interesting is that increasingly those two sides are talking to each other."
A university trustee for nearly 10 years, Ed has taken on the added responsibility of chairing Inspire Innovation: The Campaign for Carnegie Mellon University. He calls it a daunting job, particularly in this current economic environment, but one of significant importance to the university, especially its students and faculty.
"Carnegie Mellon had such a great impact on me — I wanted to get re-involved with it," he said.
As a businessman and a Vice President at Apple, Inc., Ed's career also combines art and technology.
"With everything I find myself doing, I always think there's an aesthetic to it — from an engineering perspective but also from an outside aesthetic," he said. "And clearly, being at Apple, a lot of what we do really involves building things that aren't simply great to use but they're beautiful to look at."
A quality he finds particularly attractive about Carnegie Mellon is that the university does so much with so little.
"When we look at the amount of money and the budget of the university versus the impact  the work done here has on the world at large — the only word that applies is 'disproportionate,'" he said.
"We have all these great professors who could get recruited to a university that has a lot more money than we do and yet they stay here. And I think they stay here because the collaborative environment at Carnegie Mellon is really second to none."
"Now is the time to get involved with the university — you have the opportunity to help this university reach the potential it has to really become a jewel for the world at large," said Ed. "You can be a part of really impacting some of the toughest problems that the world is trying to address today — whether it's living standards, economic issues, clean technology or the future of computing, neuroscience or healthcare."
He added, "These are all things that are being worked on at Carnegie Mellon. And by donating whatever it is you have to donate — time, energy, money — you have a chance to help Carnegie Mellon, and ultimately help the world be a better place going forward."
Related Links: Watch Video  |  Inspire Innovation
---