Entrepreneur's Kiosk in Action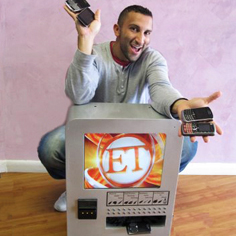 Cell phones seem to pick such inopportune times to need a charging. With that idea in mind, Carnegie Mellon alum Paul King (HS'05) created a kiosk that charges your phone in 10 minutes. The first kiosks are already in place in Chicago, Las Vegas and Six Flags parks.
"I had this idea and it just would not leave my daily thoughts," King said. "It took me some time but by April of 2008, I raised my first round of capital of $750,000 and began manufacturing and distribution."
King called his company Hercules Networks, started an office in Miami and New York, and today they have a team of 12 between the two offices, plus a manufacturing facility.
"I have been fortunate to bring a few great people into the company, including another Carnegie Mellon alum Ken West, who is CFO of Marvel," he said. "We just raised another round of capital this month, and expect to raise one more round in the next 6 months and achieve profitability by mid-2010."
The technology King and his colleagues created is two-fold. Their kiosks rapidly charge cell phones, handheld computers (PDAs) and mp3 players in 10-minutes and they also play digital media.
"So, we have two revenue streams — one from charging devices, which usually costs about $2, and one from advertising," King said.
Also known as Automated Charging Machines (ACM's), the kiosks can be found so far in MGM casinos in Las Vegas, bars and restaurants around Chicago and in Six Flags Parks throughout the country. Some of their advertising clients currently include Bank of America, Cadillac, and AT+T.
While you wait, you'll be entertained with video from their partner, CBS.
"We have a content partnership with CBS, so each video loop is 10 minutes — five minutes of CBS entertainment and five minutes of advertising," King added.
King explains that the company is growing through franchises and partnerships, giving people around the country the chance to take a great product and a working business model to develop their own businesses. His goal: to build a national network like a television station throughout the country.
"The media market is shifting away from television and radio because advertisers cannot get the same eyeball counts on the old mediums that they used to," King explained. "Now, you have to reach people when they are on the go and at the point of making purchasing decisions."
King feels that Carnegie Mellon is more responsible than any one other factor for shaping him into the person he is today.
"The work ethic imposed and the ongoing level of mental stimulation made me look for that same stimulation well beyond graduation day," King said.
To aspiring entrepreneurs, King offers the following words of advice: "No matter how good an idea is, or how bright you are, you need other people to help you," he said. "Understanding people and their tendencies has been the single most important factor for building my company. I am able to make up for experience by understanding people."
King — whom BusinessWeek recently named one of America's Best Young Entrepreneurs in 2009 — hopes to one day be able to have a scholarship in his name. "It would be the least I can do for the school that set me up for my future."
Carnegie Mellon fosters the entrepreneurial spirit through facilities, funding and experts who know how to take an idea to market. University centers such as the Center for Technology Transfer and the Don Jones Center, help deliver innovation to the global marketplace.
Related Links: College of Humanities & Social Sciences  |  Inspire Innovation: Student Support  |  Donald H. Jones Center for Entrepreneurship
---